It should come as no surprise to anyone that I was itching for something sweet after dinner and even more unsurprising, we ended up at PS Cafe Dempsey for desserts.
I decided to try something different - there goes the ginger and lemon pudding, southern chocolate pecan pie, cheddar crust apple pie, carrot cake, double chocolate blackout cake, sticky date cake and berry chocolate cheesecake.
However, what luck as they ran out of two desserts that I was eyeing - almond chocolate hazelnut crunch and white choc coffee brownie.
So I ended up with their bitter chocolate orange gateau which is funny, considering how I don't like chocolate with fruits and I wasn't feeling chocolatey to begin with.
I didn't exactly regret. Part of me kept wondering why I chose this zesty citrusy chocolate slice while the other part of me grovelled at the infallible richness of this chocolate fudgey treat. It was surrounded by a puddle of orange zest pulp which seemed unusual but wasn't entirely odd.
I feel like I'm speaking in riddles.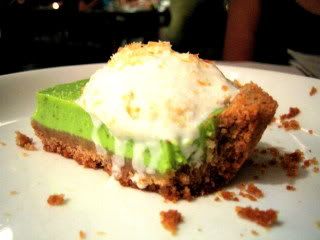 Paulina chose the Florida Key Lime Pie but she didn't like it too much. I, on the other hand, could have polished it off single-handedly. To me, it had the right amount of twang and equally-satisfying crust to boot.
Was it better than Morton's and Bedrock?
Hell yeah.
Another round up, bearing in mind that this list is not exhaustive.
Banana Cream Pie
Berry Chocolate Brownie Cheesecake
Bitter Chocolate Orange Gateau
Carrot Cake
Cheddar Crust Apple Pie
Chocolate Crunch Doorstop Cake
Double Chocolate Cake
Florida Key Lime Pie
Giant Coffee Eclair
Ginger Pudding
Lemon Ginger Cheesecake
Lemon Pudding
Pecan Nut Chocolate Fudge Pie

Sticky Date Pudding
Sticky Lemon and Chewy Florentine Cake
PS Cafe
28B Harding Road
Tel 6479 3343