On my second day on Boston, Edward and I dined at Finale, an upscale desserterie (love this word). Although there was an outlet near Edward's place, we visited the one on Columbus Avenue as we had the Blue Man Group to catch thereafter. Dining at Finale is like hitting the fast-forward button to dessert. Not that it was a rushed meal, it was more of 'cut the chase, let's get down to dessert!'
Cut the chase, we shall.
The Whole Nine Yards served as our "Getting Started" guide- a sampler platter featuring nine tasting portions of Finale's specialty desserts, including the Chocolate Infatuation, Fantasia, Caramel Carnivale II, Manjari Mousse, Crème Brûlée, Finale Cheesecake, Boston Cream Delight and Sorbet.
Ha, by the time you finish reading that paragraph and googled 'Manjari Mousse', I would have been more or less done with the dainty offerings.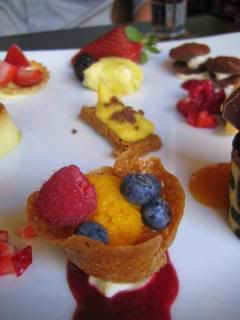 Great for people with an attention span of three bites and believers of the Law of Diminishing Returns. Aka 'Almost Perfect for Me' since I fall into both categories- what are the odds?
Well, 'almost ' because what am I suppose to do with one bite? Savour it? Come on, don't tease me!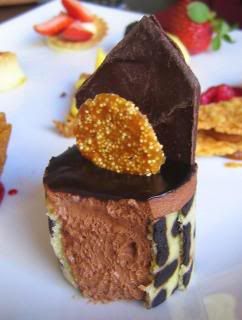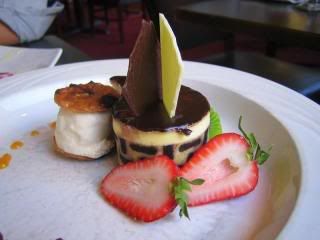 Naturally we 'upsized' our next order the Boston Cream Pie. You so saw that coming, didn't you?
When in Rome Boston, order …
Finale's version of the famed dessert was made up of yellow cake, cream and chocolate, and also featured chocolate whoopie pies (vanilla gelato sandwiches!), cherry almond Florentines, apricot sauce and fresh fruit.
We couldn't resist the Fruit Tart, which bore such bright hues it could have qualified as one of Blair Bitch's sidekicks in Gossip Girl. Why not, since it's already a 'tart' to begin with!?
After Blue Man Group performance, we walked back to Finale for some hot chocolate. The cool breezy night was perfect for Noisette Chocolate, which was rich with hazelnut flavour, kind of like sipping kinder bueno... truly an encore-worthy performance.
Finale
At various locations around Boston