I have never met a cake that made me breathless.
Took away by breath at first sight, yes. But never have I had to take a breather while eating it.
Till I met PS Cafe's Double Fudge Chocolate Cake.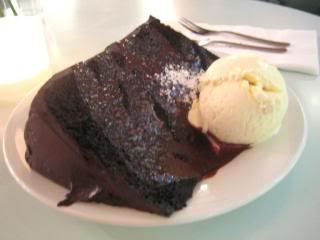 Sorry folks, you have to take this lying down.
The massive slab couldn't stand on its own for crying out loud! I don't normally fancy sponge cakes unless the 'sponge' aspect served a purpose of say, soaking in chocolate syrup? Awesome Strike #1.
As if the chocolate wasn't already an overkill, it was accompanied by you-make-me-very-very-happy vanilla ice cream. Awesome Strike #2.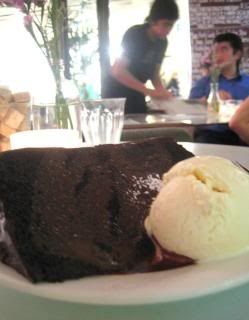 You know what was funny. We found the service unsuspectingly good. Maybe it's because it was a weeknight and the cafe was only half-filled. That being said, the waiters dutifully topped up our water cups and -pause- smiled at us throughout service.
Good service at these chicer-than-your-crocs cafes?
I could get used to this .
Awesome Strike #3.