Summer might have been the season to welcome friends back on their holidays but it was also the season where I bid farewell to an extremely dear friend of mine, Diana. Bearing our love for Japan, now-in-HK Diana and I met up at Tatsuya for a sort of farewell lunch.
Despite its fame, Tatsuya is a restaurant that retains its warmth. The both times I was there, the seasoned staff were polite and the owner Ronnie Chia did his best to acknowledge every customer's presence.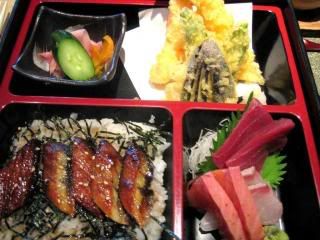 Lunch at Tatsuya is great for those dining on personal account and there are quite a few set lunches to choose from. Diana had the sashimi unajyu bento, a very comprehansive bento that came with assorted tempura and sashimi, as well as grilled unagi slices over rice. It's quite a feast as one gets to enjoy the raw, the grilled and the deep-fried.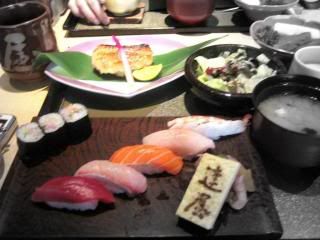 In contrast, my yakizakana bento seemed like a ripple in the pond ... but it suited me just fine as I had a heavy breakfast before that.


Heavy breakfast before Tatsuya?
What an awful idea. Urgh I am always ravenous in the mornings and I get really grouchy if I don't get fed within half an hour of waking up.
I have been having cravings for cod fish for the longest time (since Nadaman actually) and psst, this wasn't your ordinary grilled fatty fish. I was expecting a competent slice of firm fatty cod fish and I did receive that, plus a blanket of miso mayo that browned beautifully under the griller.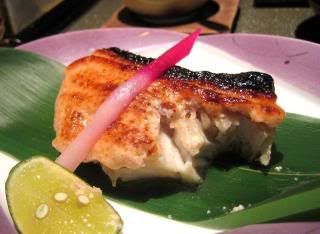 The savoury rich miso mayo and almost-bouncy cod flesh paired off handsomely, as if they were the Homecoming King and Queen of prom.
I love the size of Tatsuya's nigiris. They were the ideal pop-into-your-mouth nuggets that squished against the sweet rice mounds in my mouth and I also happen to think they have one of the best fish-to-rice ratios. Well of course, I would never (say that aloud: NEVER) no to a larger slice of fish but this dainty being would do for now.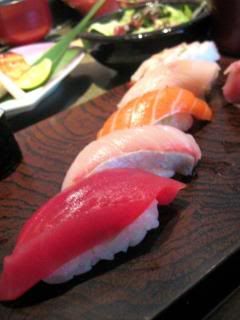 Both sets came with chawanmushi, miso soup and fruits. The watermelons, pear and miso soup were pretty much similar to the rest of the pack; but the chawanmushi, while ingredient-less, was so silky, I had difficulty keeping it on my wooden spoon.
After which, we popped over to next door PS Cafe at Paragon for dessert - cheddar crust apple pie with vanilla ice cream.
I got to admit I'm not the biggest fan of apple pies because cinnamon's not my thing and I happen to think MacDonald's deep fried abnormality is -gulp- pretty good. Hey cut me some slack, it's deep-fried!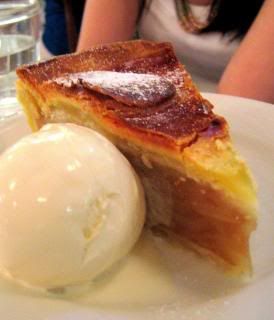 Anyway this apple pie is probably not "what grandma used to make"- instead of your usual buttery crust, the folks at PS Cafe added grated cheddar into the crust, resulting in a savoury deep-dish pie.
Yawn we love you grandma but we need variety too.
I can't quite put my finger on it because it sort of works but doesn't. Although Diana and I both agreed that the addtional lemon rind came on too strongly, I think this ultimately kind of works because the robust cheddar added a little pizazz.
In fact, without the ice cream, this would have made an ideal 'breakfast/brunch' dish. Just imagine with with a wafu-dressed salad side... Hey tt could work, right?