During the World Gourmet Summit, I was averaging 3-4 hours of sleep and basically operating in sleep-deprived half-trance. Saturday seemed like the perfect day to sleep in but I had more important plans - lunch at Au Petit Salut with a couple of girlfriends.
It's been
almost 2 years
when I last visited their Harding Road / Dempsey outlet. Sitting in the restaurant that had tons of natural light pouring in, I could almost feel the week's weariness temporarily lifted from my shoulders.
I'm surprised they kept this nondescript baguette slices. Funny how one can pay so much attention to entrees, mains and dessert but completely ignore the importance of a bread basket. Kinda like having a fantastic frock on but wearing it with unwashed-3-days hair.
Although we shared most of everything, the girls ordered the baked Burgundy snails and salmon tartare while I picked the pork terrine.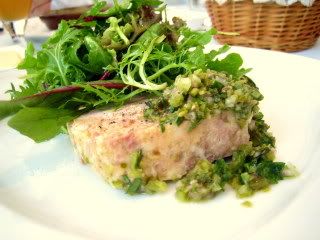 I'm someone guilty of going through food phases. I find a dish or snack that I love and I can eat for days and even weeks before moving the next flavour of the month.
I know pate / terrine is such an unlovely thing to be fascinated by but since Les Artists Bistrot, anything plugged with the words "pate" and "terrine" piqued my interst.
Note: By the time you read this, I'm into tteokbokki (Korean rice cakes).
Dae han min guk!
But anyway, the pork terrine was good especially with a zesty shower of shallots, gherkins and capers vinaigrette.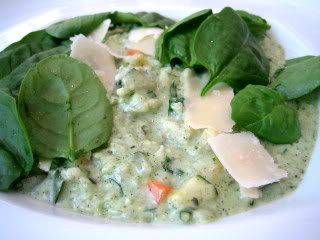 For our mains, Pam had the braised beef cheeks while clowie went for the pan seared red snapper.
For someone who didn't want to exert too much energy when eating, risotto sounded perfect. I mean, we are talking using one hand to hold the spoon, instead of two for the knife and fork… and I didn't even need to use my right hand.
Up till now, I can still remember the creaminess of the spinach risotto punctuated with the crunchy carrots and cucumber. Delicious.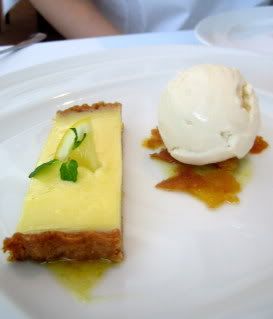 For desserts, I rekindled my love for citrus with the lemon sabayon tart, though the almond and honey yogurt ice cream was odd.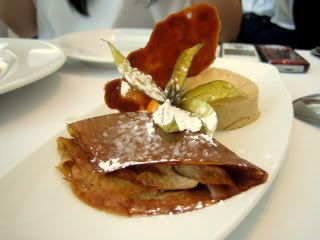 The chocolate-filled crepe came with coffee parfait and a sprinkle of caramelized almonds. Did you know that parfait in France just means custard while in the States, it is commonly known as a sundae, with layers of ice cream, sprinkled with syrup, fruits, toppings and whipped cream. That's why French women don't get fat – same word, totally different meaning.
Though I don't usually fuss over crème brulee, I get some odd satisfaction from cracking the burnished caramelized top. Au Petit's crème brulée, with specks of fresh Madagascar vanilla beans, reminded me of a sweet chawanmushi.
I don't know what's your hangover cure but mine happens to be a beautiful lunch with my girlfriends.
Au Petit Salut
40C Harding Road
Singapore 249548
Tel: 6475 1976
Here's a quite funny video of Ruth Reichl, famous for her makeovers featured in Garlic and Sapphires.