Last week was unofficially my last week of school. I tried not to get overly sentimental because it's just not me to get emotionally attached to people. Hey, I have a soft side too ok? And it's not just the jiggly cellu-bits.
The end of term also signaled the departure of exchange students, Emma included. Emma really liked PS Cafe at Palais Penaissance so I took her to PS Cafe at Dempsey for our kind-of-farewell brunch. Sad.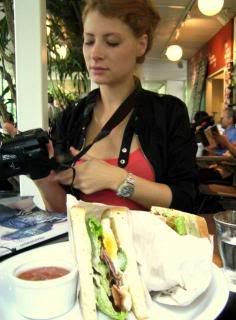 Emma fiddling with her new camera.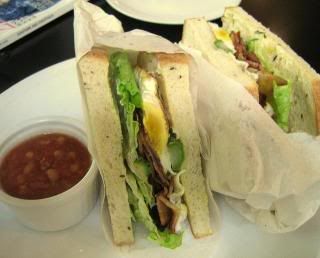 Being dessert freaks, we went light on the savoury and shared the Big Breakfast Sandwich, a chunky sandwich stuffed with fried eggs, bacon, grilled tomatoes, lettuce, asparagus, served with baked beans on the side. It wasn't exactly a Big Mistake; just that it was ho-hum and my jaw really ached from chewing on those toasts.
Gosh, what was the bread made off? I had to dunk them in baked beans to soften them up.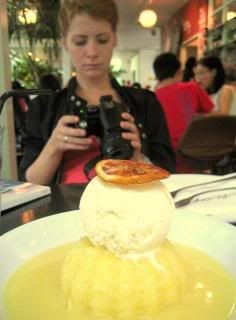 Emma fiddling with her camera again. For dessert, we shared the berry chocolate brownie cheese cake and lemon pudding.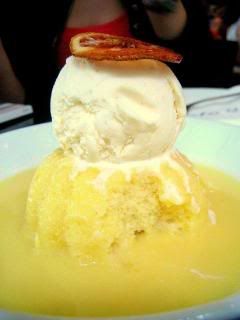 The light lemon pudding cake was bound by jolty lemon soup and topped with a vanilla ice cream. Bearing in mind that I'm going rough a "citrus" phase, the lemon pudding treat was insanely good.


Sweet Jesu-
, ok it's probably not a good idea to get biblical but the tarty lemon and sweet wholesome vanilla were MFEO. The dessert resembled the love child of two gorgeous delicious individuals like Halle Berry and Gabriel Aubrey.
I LURRRRRVE YOU!
By then Emma was stuffed and I did the most logical thing. No, not doggy bag the dessert but finished single-handedly. I did say "Emma was full," not me.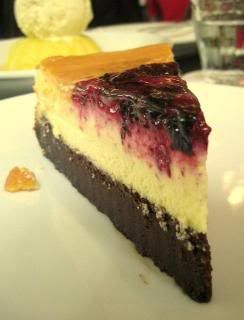 I was probably emotional eating. Semester ending… Friend leaving.. Exams blah. I got to admit the substantially dense cheesecake and rich brownie did help block out those thoughts momentarily.
The cheesecake and brownie were as opaque and air-hole-less as one would expect substantially dense cakes to be. The sourish berries center did nothing for me but being an impromptu emotional eater meant not being picky to begin with.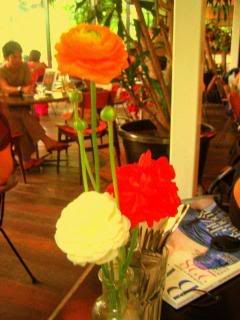 pretty flowers in a vase
Needless to say, we had a great time. One waiter in a cap was plain bo chap while the other waiter in a pink t-shirt was smiley, friendly - someone please nominate him for Employee of the Month!