If you are sick of reading about Canele, I suggest you click the 'X' button on the extreme right hand corner of this page.
It's official that most friends of mine go through this
Canele Rite of Passage
. A rough run through of past Canele experiences revealed the following:
Twice with Zhu
,
Shermeen
,
Philip
,
St Nicks girls
,
Gerald, Vanessa
and most recently, Edward.
As you might already know, in every episode of
"Tea with Edward"
, we will definitely order
something with berries
and
macaroons
.
Very predictable. Just like how in every episode, The Nanny's Fran Fine never fails to break into her famous "Mr Sheffield..." nasal draw.
The Strawberry Shortcake practically whored itself to Edward, luring him with the promise of fresh strawberries and crème chantilly sandwiched between fluffy sponge layers.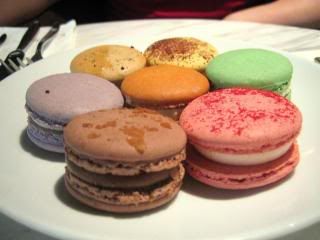 "We will have one of each..."
Now if only that was the answer to life's dilemmas.
With those magic words that should be repeated in an Eames showroom, a plate of macarons was summoned to our table, spotting an array of colours that would put any rainbow to shame.
One of the most delightful flavours around is the rose, whose sweet delicate aroma charmed the skinny jeans off me - a real feat, considering how freakin' difficult it is to get in and out of those damn jeans these days.
According to
Clothide of Chocolate & Zucchini
, the bergamote orange is "a natural cross between lime and sour orange". Filled with orange cream and candied orange, the bergamote macaron is worth a try if you are into variations of citrus.
Violet macarons or violet-lavender-anything never fails to remind me of soap or potpurri. Only the presence of buttercream stopped me from producing a mental vision of a bathroom collection of lavender-scented toiletries.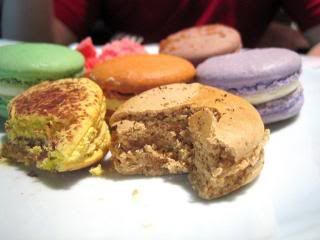 Like rose, cafe (or coffee) is also another favourite of mine. It is almost always a surprise as I expect macarons to be light, flora or fruity flavoured meringues, whereas the masculinity of the coffee scent is certainly more down-to-earth.
The passionfruit taste was decisively stark, overwhelming the milk chocolate ganache.
The pistachio looked and tasted medicinal. Period. Haha.
I love the milk chocolate feuillitine, which had specks of feuillitine pattered over its meringue shell and a rich milk chocolate ganache encased within.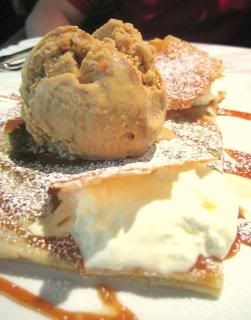 I was half-expecting Edward to choose the strawberry crepe but he picked the Nougatine instead. Well, I'm sure you don't need an introduction to this much-blogged-about crepe and needless to say, it did a great job of wrapping up our afternoon.