I had trouble deciding on a place to meet up with Edward* and discovering Laduree at Harrods was my 'Rumpleskiltskin' moment.
* Edward- Remember him from Boston? Lucky guy was doing a summer program in London.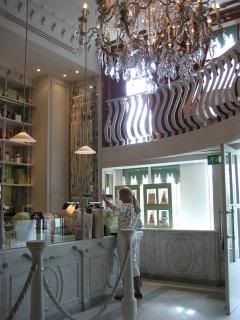 It was a tea room fit for the famed pastry couturier. The first thought that came to my mind was, 'whoa, have I stepped onto the set of Sofia Coppola's Marie Antoinette?' Googling the patisserie, I found out Ladurée was actually selected as exclusive pastry consultant for the film.
Playing to our cravings, Edward was
supposed
to choose the macarons, while I picked the pastries.
Edward (to waitress), "For the macarons, we'll have one liquorice... one pistachio.."
I panicked at the first two flavours he picked. I can't think of a more vile-tasting candy than liquorice; the first time I tried it, not only did I spit it out immediately, my fingers were itching to scrap off the taste from my tongue and esophagus (if I could only reach it). My feelings towards pistachios are less hostile; although I do feel pretty strongly that the pistachio is better off eaten as a nut.
I shot up from the menu and gave him my best 'eh dude' look, eyes enlarged, nostrils flared.
He got the hint immediately.
Ahh, bless friends who recognize and embrace the control freak in you.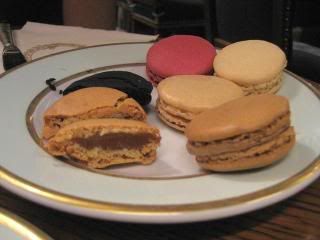 Eventually We-He settled on the Vanilla, Coffee, Salted Butter Caramel, Raspberry, Orange blossom and sigh, Liquorice.
I'm neither a fan nor expert on macaroons so my brain doesn't register the taste of the macaroons other than the fact that it is sweet and crumbly. Macarons are so wasted on me. But judging by the number of 'died and gone to haven' blog entries of Laduree-aficionados, it's an experience not to be missed if you a macaron-lover.
I picked the Praline Millefeuille, a caramelized puff pastry, sandwiched between praline cream and a crispy praline of almonds and hazelnuts. My heart literally skips 2 beats when I spy something with layers.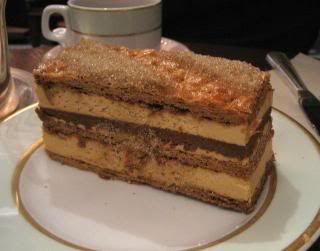 It was lovely. The delicateness of puff pastry and crispy praline resembled organza wings caught between and stuck onto the luscious praline cream.
I felt bad for vetoing Edward's macaroon choices so I let him choose the other pastry.
Perhaps to make up for his pistachio-nonappearance, he chose the biggest and fanciest macaroon they had- the Ispahan.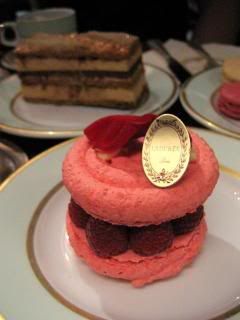 Is this revenge? Nah, Edward just loves berries.
Lo and behold, this pastry/macaron comes with its own entourage and dry ice effect. I'm kidding. I'm pretty sure most of you don't need any introduction to this rose-lychee-raspberry concoction.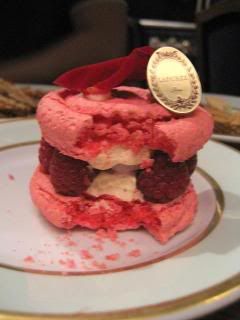 We accompanied our pastries with tea because I just realized coffee kills the taste of whatever I'm having. I had thé Mélange Spécial Ladurée, a blend of citrus fruit, rose, vanilla and cinnamon tea while Edward had something "normal"- I don't remember, probably Earl Grey.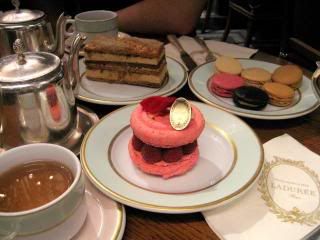 It was the most expensive tea I've ever had in my entire life. I could auction off my Laduree experience at Sotheby's or Christie's, ok fine maybe eBay. Of course you can find credit-crisis-friendly versions of Laduree pastries elsewhere; however one must understand those cheaper morsels were spun of the
les originals
in the first place. In other words: be prepared to pay for heritage.
Ladurée at Harrods
87/135 Brompton Road
London SW1X 7XL