I met up with Shermeen for brunch at Canele, Shaw Centre.
I realised as one gets older, it becomes harder to make good friends. It does seem like these days, noone really bothers with friendships anymore and relationships seem to be more about the perks or for "networking purposes". Given my tendency to shy away from meeting new people, I really take comfort in the fact that I've known most of my close friends since primary and secondary school.
Yet strangely enough, I've only known Sherms since March this year but it really didn't take long to find out she's a real sweetheart- a 'keeper' in my books.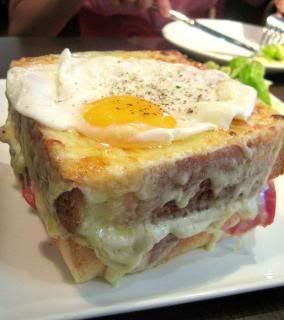 Thanks to Sherms who was game enough to try anything, I moved out of my club-sandwich-comfort zone. One of our mains was the Croque Madame, which had 2 thick slices of homemade pain de mie layered with ham and Swiss Gruyère cheese, and baked till the ham, cheese and toast formed a dearly bond.
What made this croque 'madame', as opposed to 'monsieur' was a fried egg whose yolk was just begging to be pierced so that it could burst out of its semi-permeable membrane and drape all over the sandwich.
Unless you are one of those who sing sonnets about carbonara or cream sauce, I recommend sharing it. I found it rich and heavy but even if I was going to feel sick later, it was totally worth it. Here's a little advice: You got to be selective about who you share this with, like how because I don't fancy the yolk running amok, Sherms gleefully claimed the yolk half.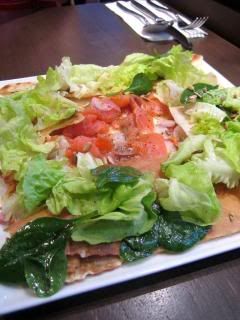 I've always thought of crepes as desserts that taste best with obscene amounts of sugar and chocolate. However by the time we were done with Canele's smoked salmon crepe, I felt as if someone had lifted the blinkers and introduced me to a whole new world of savoury crepes.
Unlike paper-napkin varieties that supermarkets sell, Canele's crepe was crisp on the sides but inside, the crepe softened beneath the red onions, capers and dill cream cheese. Crap, now I'm in this savoury-crepe phase and I can't think of anywhere other than Out of The Pan that does savoury crepes. Help!
Although we were quite stuffed, Sherms mentioned, "I don't think anyone leaves Canele without having dessert right?"
Oh my, you speak Indulgence! So do I... Amen.
After an intense ingredient-by-ingredient analysis of all the crepes, we settled on the Nougatine, the Nadia Comaneci of ice cream / crepe desserts.
Nutella, nougatine ice cream, salty caramel, caramelized filo and vanilla crème chantilly.
In other words: 10. 10. 10. 10. 10.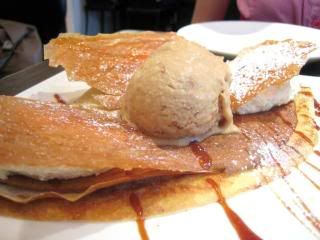 This was my second Nougatine crepe in a week but it was every bit as delectable. Absence may make the heart grow fonder but… presence makes the love last longer.
The new Canele at Shaw Centre is now my default to-go place for brunch and tea since Cedele's notoriously awful service is as unforgettable as its chocolate truffle cake.
the much-photographed window display