Mum: How nice it would be to stroll in Paris... Shall we?
If only Mum were a drunken alcoholic - that would have made things simpler because I could easily dismissed those words as gibberish muttered out of drunken stupor.
Sigh, don't do this to me Mum.
No, you are right. It's not the end of the world and I will just have to be very patient. Very very patient. We celebrated Dad's birthday at Bistro Petit Salut.
Don't worry Dad, you don't look a day over 45!
Not that he really cares. My dad is someone who believes in aging gracefully and *cough* naturally.
Ha, seriously Dad!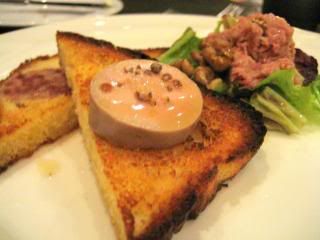 We had a total of twelve dishes between the four of us.
My starter was a showcase of duck prepared in three different ways. First, a delightful homemade duck rillette, duck confit shredded and mixed with herbs. I admit I was gripped by the promise of decadent morally-compromising foie gras, which a roulade failed to deliver. I'm guessing when it comes to foie gras, I'm all for heating things up. The duck pâté, stuffed in toast, was almost forgettable.
The description on the menu listed 'pastry' but I found buttered toast instead. Maybe puff pastry would have been too rich for the overall ensemble, no?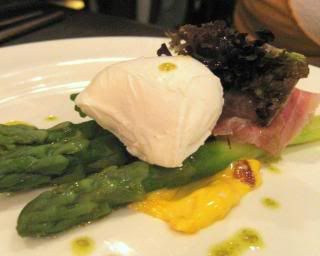 Mum also picked something new, warm green asparagus, topped with organic poached egg, smoked ham with garlic saffron mayonnaise and a small salad on the side. It was a pretty dish abeit one major faux pas -GASP- PEA Alert!
PEA as in Poached Egg Abnormality. Yeap, someone forgot to fish the poached egg out of the water and the yolk was cooked thoroughly. Tsk tsk.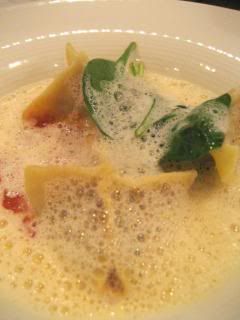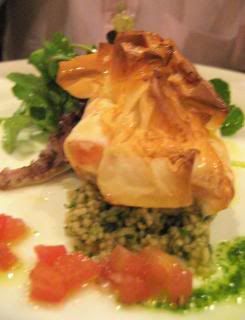 Yang had the lobster raviolis and Dad opted for the warm millefeuille of vegetables and cured salmon.
Both didn't differ much from the last visit.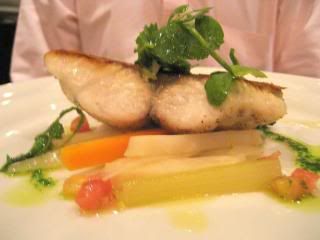 Dad's restrictive diet hooked in the Catch of The Day, a pan-fried oven-baked red snapper. He's a man of few words at the dinner table, so the only afterthought we squeezed out him was, "Fish was too small... I expected a bigger piece". I guess that was the only mishap; otherwise we would have heard a spew of diatribe over the next days.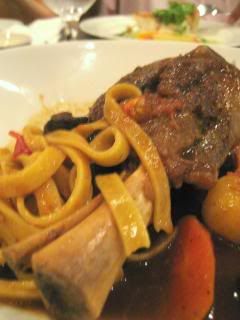 Tonight's braised lamb shank with homemade tagliatelle harboured both delight and dismay. Though the lamb biddingly tender, the same cannot be said for the tagliatelle. I thought last week's thick tough tagliatelle was a pigment of my imagination but turns out, it wasn't. Tonight's tagliatelle was most certainly undercooked and I could feel the doughyness of the pasta nudged against my teeth as I bit into it.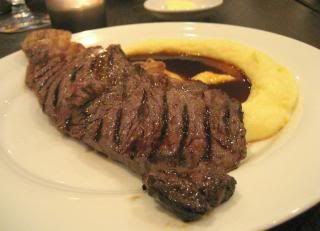 Steak is Count-On-Me dish in any respectable French bistro and at Bistro Petit Salut, I weaned my cravings with an awesome grilled grainfed sirloin steak.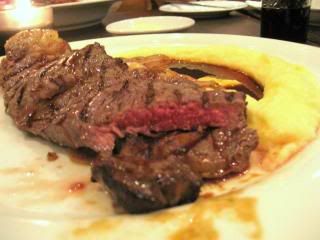 I loved how the steak was served nude, without sloppy gravy sploshed all over it. Though this dish is typically served with fries, I requested for their creamier-than-thou mashed potatoes, which Rub-A-Dub-Dubbed merrily with the caramelized onions and sauce.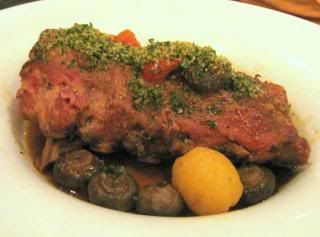 Mum tried something new too, the provencal-style braised pork spareribs, a respectably-sized rack served on top of mushrooms, tomatoes and roots vegetables.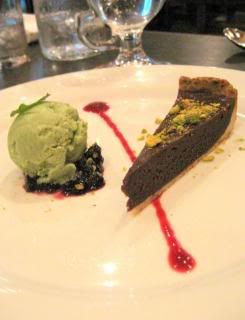 For dessert, Dad had his now-regular fresh fruits with sorbet, while Yang chose the chocolate tart fondant.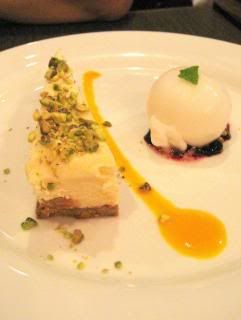 Mum eased my dessert dilemma by ordering the cheesecake and sorbet. Both made from scratch in-house, the homemade cheesecake and citrus sorbet performed a charming balancing act. The cheesecake was denser than others as it was made with light cheese, instead of the regular cream cheese but its heaviness was eased by the icy citrus sorbet.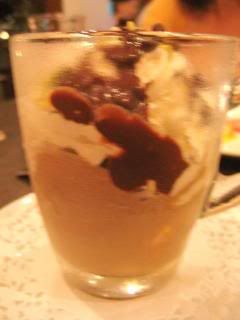 I picked the Coupe Latte because it was one dessert I thought I had not come across in other menus. Coffee filled close to half of the glass mug and found itself in good company of Charlotte finger chunks and vanilla ice cream; all under the safe shelter of chocolate-drizzled whipped cream.
Just when I thought the dessert tasted 'oddly familar,' I suddenly realised it could have passed off as the upsized version of the
treat from Iggy's
. I see (and taste) crunchy chocolate balls too!
Cosy bistro in the neighbourhood... Bistro Petit Salut is a restaurant that I would love to like. Both times I was there, there were large groups with
very
poorly-behaved kids. Yes, it wasn't the fault of the restaurant, I guess I just feel jinxed. The food is mostly average and not exactly memorable, apart from the steak and cheesecake. The only thing consistent was its friendly service. Perhaps I should stick to lunch instead.