Lebanese.
Now that's a cuisine you don't find often on this blog.
Upon Yang's recommendation, which was based on a friend who has a Lebanese boyfriend***, we had dinner at El-Sheikh Restaurant on Pahang Street.
*** Yes, I am vaguely aware of the fact that dating a French doesn't necessarily make one an expert on French cuisine but my sister's friend has been to Lebanon and that makes her 'one-up' in my books.
We greeted our Sheikh Mezze, a selection of dip-friendly starters by ripping open the pre-packed Lebanese pita bread. The Lebanese pita bread we had was very burrito-like, thinner than pita pockets found in other cuisines.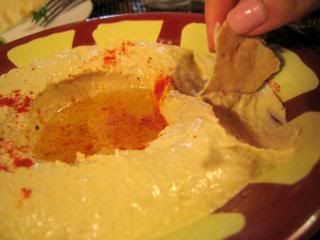 The hummus, pureed chickpeas spiked with tahini (sesame paste) and lemon juice, was earthy and smooth without losing its grainy consistency. We had clear favourites and this was Yang's.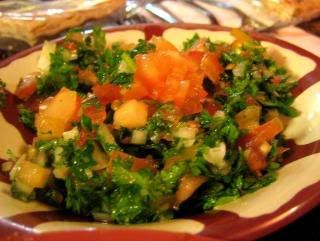 My gums would soon shudder at the mere thought of tabbouli, a parsley salad mixed with tomatoes, onions, mint, lemon juice and olive oil. To me it was really just
PARSLEY
PARSLEY
PARSLEY
- yes, in bold.
Similar to the hummus is the moutabel, which was made of grilled aubergine, tahini and lemon juice.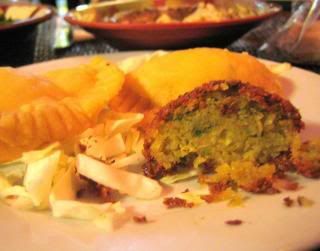 On top of the cold mezzes, we had two hot mezzes - cheese sambousek and falafel.
It is best to attack the cheese sambousek first, a deep-fried filo puff pastry with cheese, parsley and onions, to experience gooeyness that would have been lost to time.
I had my
first and last falafel in Copenhagen
so I knew that these deep-fried grounded chickpea balls could potentially be crazily delicious. Crunchy and well-seasoned, good to know stereotypes exist for a good reason.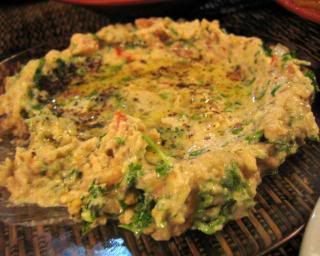 On top of Sheikh Mezze, we order an addtional baba ghanoush, which turned out to be my favourite mezze of the table. The sprightly appetizer was made of grilled eggplant, tahini, lemon juice and obviously, loads of parsley; but the parsley made all the difference, without any of its gum-chilling overpowering qualities.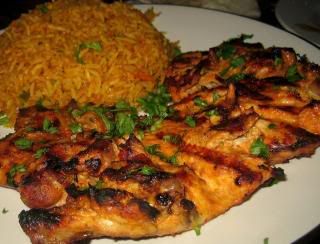 We had the Sheikh Chicken, a whole chicken spliced open, marinated and grilled. The dish reminded me of the 'why did chicken cross the road' joke but in a 'why didn't the chicken check before crossing the road'. As you can see, the chicken tried to cross the road and got steam-rolled by a tank. Parents should make use of this opportunity to dispense some road safety advice.
I forgot what's the name of this dish but it is the one above Sheikh Chicken on the menu. Boneless chicken chunks marinated and grilled, topped with a brush of mayonnaise. Unlike the Sheikh Chicken which borderlined on being dry, this chicken was smoky and creamy.
Both dishes were served with saffron rice. Oh fluffy formless rice perfumed with the aromatic scent of saffron! [Insert plate-scrapping sound clip]
For me, El-Sheikh pried open the gateway to Middle Eastern food. Although my understanding of Lebanese or even Middle Eastern begins and ends with the hummus bought from supermarkets, a few more dining experiences should worm out this deficiency. Hmmm, do you guys know of any other restaurants that do good Middle Eastern food?