If Yixiao can't come to Paris, Paris will come to Yixiao.
In the form of a bistro. Oh well, that will do (for now).
My mum, sister and I have
fond memories of Au Petit Salut
but Dad was a new Convert- that's 'convert' with a capital 'C'. Just imagine we went back twice in a week, once over the weekend and the second time for Dad's birthday dinner.
Ever since Dempsey and Rochester wrestled over the 'See And Be Seen' title, Holland Village and Chip Bee Gardens regained its quiet, earnest vibe (phew thankyou!). When
Au Petit Salut jumped onto the Dempsey bandwagon and moved to Harding Road
, the owners converted their existing quarters to 'Bistro Petit Salut', a casual neighbourhood eatery.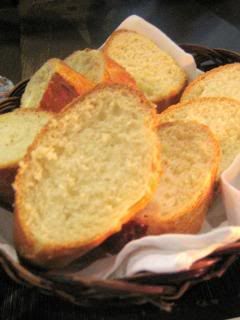 Though I do prefer their lunch menu, the variety for the 3-course set dinner was good enough to get us going. But before that, we were served (refillable) baskets of plain white baguette with chilled butter slices. Though slightly pedestrian, the baguette slices were toasty warm.
Give me toasty white over lukewarm artisan any day.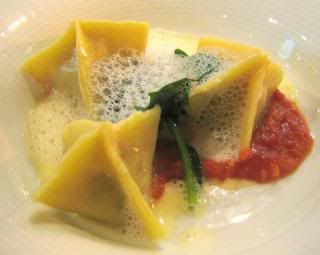 For one of our starters, three lobster raviolis sat pretty amidst sautéed spinach, tomato puree and light bisque emulsion. Save for the thick ravioli skins, this was pretty good. I could actually see the lobster bits (not like Who Shrunk My Lobster?) and the tomato-bisque base moist the raviolis, without turning them into a soggy mess.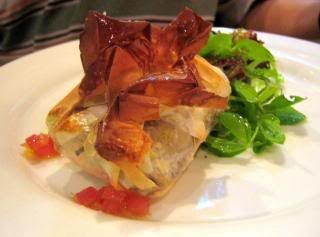 The warm millefeuille of vegetables, cured salmon and couscous salad, tarragon dressing was something unexpected. I was thinking of puff pastry layers like the dessert pastry; instead the cured salmon and vegetables came wrapped in a filo parcel.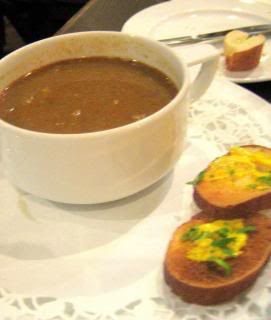 A French classic, the traditional bouillabaisse was a robust fishy soup filled with prawns and squid. Seafood soup is really not my thing but you would have probably expected something like that if you knew what you were ordering.
Onto the mains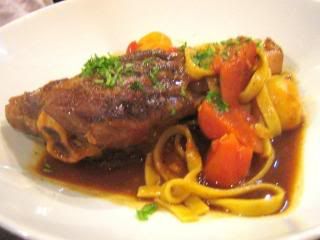 Mum's whole braised lamb shank drew looks of envy from the rest of the table and deservingly so as it was so tender, you could have removed your dentures and massaged it slowly with your gums. The lamb was served with homemade tagliatelle that, like the ravioli, was a little too thick. Maybe I'm getting it all wrong but do the French normally prepare thicker pastas?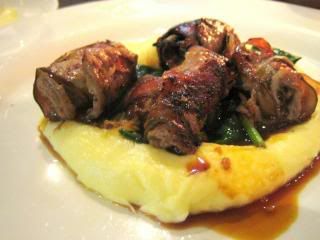 I had the veal loin wrapped with grilled vegetables (hardly noticeable) and bacon, served spinach and mashed potato. I really enjoyed it; of course this isn't exactly a revelation as you can wrap anything in bacon (see: asparagus) and it would taste good (yes, even asparagus!). The mashed potato proved to be the unsuspecting dark horse.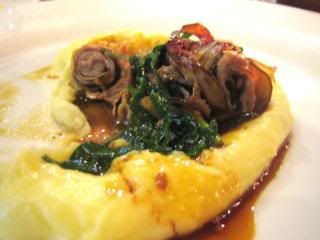 Remember the episode of Friends where Ross asked Monica if she could
"make the mashed potatoes with the lumps"?
Well Ross would have balked at this as the mashed potato at Bistro Petit Salut was incredibly creamy, almost as if it had been given a good whip.

Sorry Phoebs, they don't add
peas and onions.



As you can tell, I've been catching up with my Friends re-runs.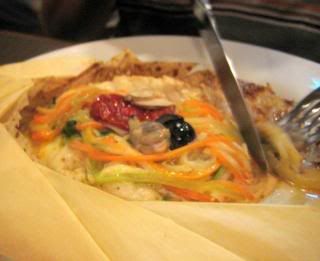 Dad had the "Papillote" fish of the day, a slice of sea bass topped with julienned vegetables and fresh herbs, oven-baked in parchment paper. It was an incredibly light dish that caused Dad's glaze to wonder over to the lamb shank. I'm sure it was tasty for Dad polished it off but let's just say, he had no trouble cleaning out Mum's lamb shank thereafter either.
Done and Ready For Desserts
The fresh fruit and citrus sorbet platter proved ideal for not-big-on-desserts Dad. I'm not about to suspect if I was adopted or anything as I definitely inherited his *ahem* temper. Haha.
The chocolate tart fondant reminded me of the milk chocolate tart I had at Spitalfields Market, except the biscuit crust was harder and less buttery. It wasn't bend-over-in-ectasy intense, good for those who bend over for the wrong reasons after awfully rich desserts. The berry coulis and (store-bought?) pistachio ice cream went well together but when you throw in the chocolate tart fondant, three's definitely a crowd.
The choux buns appears on both Petit Salut's lunch and dinner menu, which should be an indication of how popular they are. Stuffed with vanilla ice cream and smothered warm chocolate sauce, they would have easily satiated anybody's sweet tooth but I wasn't entirely convinced. Though I did help to finish them, I couldn't help but think they tasted 'store-bought', as in you know frozen choux buns, in-house brand ice creams etc
Service at Bistro Petit Salut was friendly and our waiter, who gave us more than his two cents' worth, was assertive but in a friendly 'wise sage' manner. The only thing that threatened to split some hairs was a bunch of kids who treated bistro as their backyard.
Must. Remain. Calm.
There's much to revel in at charming Bistro Petit Salut - just leave the Fine Dining Dummies Guide at the door or with the kids.