To say that this place fills up quickly is an understatement. I thought it was disturbingly kiasu of Yang and I to make a beeline for Wasabi Tei at 5.40pm. However,
surprise surprise
or perhaps in context of Singapore,
unsurprisingly
there was a queue and doors weren't even open yet.
Yang and I lucked out by being no. 12 & 13 in the queue.
TIP #1 The early bird scores a seat in the 16-seater cubbyhole restuarant.
After reading the online reviews, we were amply prepared for the less-than-hospitable service of this husband-and-wife team. Sharp, unsmiling and aloof, it felt like Dinner with The Discipline Masters but I found the entire scenario hilarious.
TIP #2 Keep your attitude, they have enough of their own.
And just remember The Triple 'O' Rule -
One Order Only
Unlike most eateries, you don't order your drink before placing your food order. You don't order before or after your dining companions. You aren't allowed additional orders after your first order.
In a way, it does make sense as the husband / chef is the only one responsible for preparing the sashimi and sushi, as well as ALL the hot food, hence acute time management is second to nothing.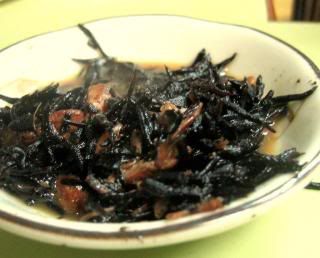 After our orders were taken, the appetizer was served. The small dish contained something unappetizing-looking that strangely resembled dried tea leaves. However, a couple of strands was all it took to convince me of my impertinence.
I'm guessing it was wakame or some seaweed type braised with minced chicken. Despite its unknown origins, it was an appetizer that personified Wasabi Tei - dismissable at first glance but packed with flavour.
I found it really funny that the most of the people around us ordered
only
hot food. Without Yang, I would have probably skipped those parts of the menu but this isn't to say the hot food isn't good.
We had the oyakodon, which literally translates to 'mother-and-child donburi'. The half-cooked egg glazed over the juicy chunks of chicken, creating a warm blanket of egginess that seeped through the rice grains. It was the Japanese version of comfort food.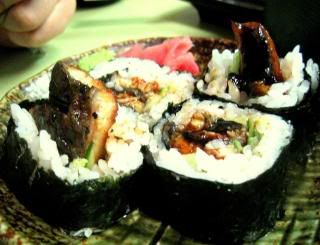 The unagi maki was excruciatingly good too. I made a promise to myself to order a whole slab on my next visit.
As the sashimi selection was rather limited, we only had the salmon sashimi. Those thick fat slabs made up for everything - the hostile service, the limited menu, the cramped space... Those became immaterial as soon as I bit into them flabs. This was perhaps one of those rare tear-jerker moments, where the words 'thick' and 'flabs' are used affectionately.
We beat the queue. We scored ourselves a couple of bar seats. Can I just say it was
super
stressful to order, knowing that it was our one and only chance to savour the potentially good food without having to rejoin the queue or re-queue another day?
SO I PANICKED.
Yes, I did. I couldn't handle such pressure. I knew I wanted sushi, I just didn't know what other sushi to order. Under the Wife's look of utter disinterest, I order the Mixed Sushi without thinking if it was something I really wanted. Come to think of it, I didn't even have time to second-guess my decision.
But there wasn't a need to. The mixed sushi was everything I could have asked for and perhaps, more. Two swordfish nigiris, two salmon nigiris, two chutoro nigiris (I think because it was better than your regular maguro), one hamachi nigiri and six salmon makis. The freshest fish slice draped lazily over the nub of rice, demanding minimal effort for maximum enoyment.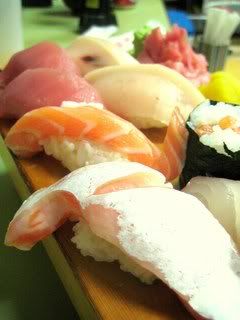 By the end of the meal, we would like to think that we almost cracked the Wife's resilience. After thanking her for the meal, we left seeing half a smile on her face. Oddly enough, I admire Team Husband and Wife for choosing to be mean and nasty - otherwise they will be bullied silly by customers.
If you are in dire need of the regular '
irrashimase!'
type of service, avoid Wasabi Tei like the plague. If you get bored of queuing, grab a discounted magazine from opposite store ANA Bookstore or simply leave the queue. However if you are prepared to wait and endure the service, your belly will thank you for it.