4th best

restaurant in Asia...The only restaurant in South-east Asia to be on the World's

100th Best Restaurants

list for three consecutive years.

Like the word 'China', 'Iggy's' is a 5-letter word that could spin off a debate.
Wow. Exceptional. Underwhelmed. Overhyped. Overpriced.
The continuum of reactions is well-covered by Iggy's.
Which also goes to prove that these days you can't trust anybody but yourself. Regardless of what Igg-groupies or naysayers proclaim, I knew I had to experience Iggy's for myself. When I realized Iggy's had raised the price of its set lunch menu from $45 to $55, my first thought was,
'Shiiites, better visit before they raise prices again...'

Take for my word for it, my dear reader. It is only a matter of time before the Michelin or Miele guide comes crashing onto our shores, giving them yet another excuse-reason-whatever to increase their prices.
My fellow intern Gerald and I decided to make Iggy's our
Pay-Day-Splurge
venue. Through blogging, I realized dining with overly-critical people often takes the fun out of eating, thus I really appreciated the fact that Gerald was a great Fine Dining partner, relishing every course to his self-orchestrated symphony of Oohs and Mmms.
As soon as our orders were taken, the bread basket was presented to us promptly and we chose the olive bread roll to go with our olive oil dip.
Warm, tearable bread generously studded with sliced olives.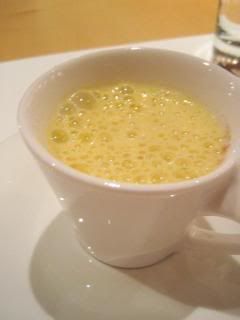 The amuse bouche of cream of corn cappuccino soup held a lovely surprise for us- a milk chocolate ball that bursts spontaneously in our mouths. Yes it was quite odd at first, very highly unexpected but to expect the unexpected is expected at Iggy's right?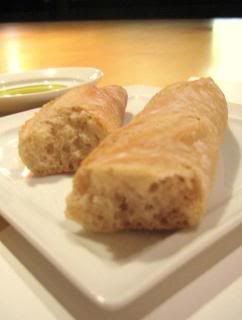 I'm not making any sense. Onward to my second bread roll, a wand-like baguette that weaved its magic with the same warm, tear-away qualities.
For the appetizer, both of us went for the don't-order-this-on-first/blind-date squid ink risotto with chargrilled squid. It was awesome. The smokiness of the chargrilled squid cut through the satisfyingly plump beads of the risotto.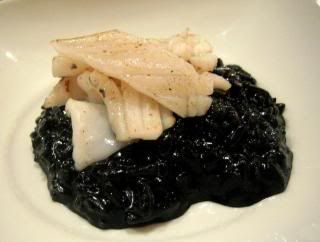 Oh my gaw-, I love the risotto. Packed with such richness, it was a small but extremely fulfilling portion. I'm glad each of us ordered a portion as I don't think we would have wanted to part with any of it. Hey we are friends, not philanthropists.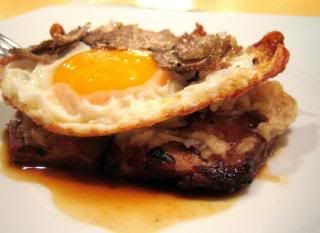 From Tom Ton, I knew kurobuta could be credibly tender but Iggy's braised kurobuta cheek made me want to cheer. Yes, it was shredily tender but when you eat it with the onion confit and yolk-burst fried egg, it just feels like comfort food.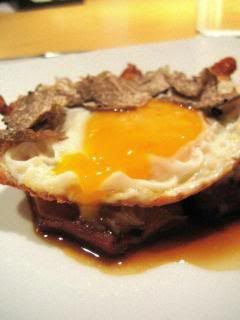 The richness of the yolk folded in the flavours of the onion confit and braised kurobuta. Oh yeah, I have a thing for browned crisp rims of fried eggs. Hmm, something to do with an overweight childhood and a very unhealthy diet.
I must admit even without the truffles, this dish was extremely pleasing. It was my first time with sliced truffles and oddly enough, they tasted milder than they smelt.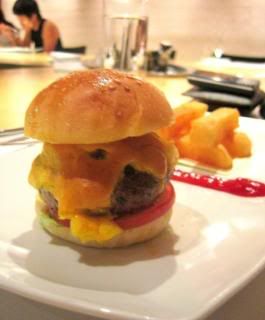 I ate my kurobuta to the soundtrack of Gerald's MMM-ing. He went for the wagyu beef burger with white truffle sabayon. To be honest, I would have found it hard to gain gratification from minced wagyu beef but hey, the guy loves it, I'm not about to question his taste.
The burger came with an unceremonious 4 thick cut fries, maybe about the size of 16 skinny fries. Naturally with such a small burger, it doesn't make sense to pile on the fries- then again, I would choose 'pile of fries' over 'sense' any day. Gerald quote-and-unquote isn't a "potato person" so I had the privilege of tasting one potato-ey cuboid.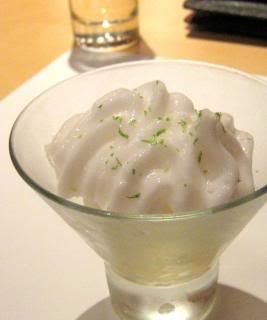 For dessert, Gerald scored a light and refreshing treat with the Champagne Jelly with sorbet and elderflower foam.
On the other hand, my French Toast seemed like a walk through the playground and it was obvious that whoever created this dessert had fun doing so.
Left in the picture is a shot glass containing iced mocha and whipped cream, and I was presented with a bubble-tea-straw to suck in the cocoa crisp balls, which were still crunchy despite being submerged in the coffee. It was like the perfect fusion of bubble tea, Starbucks and cocoa pops.
Although the menu stated maple ice cream, the ice cream tasted 'coffee' to me. One of the three follwing situations could have happened:
1. the menu had a typo mistake
2. the kitchen had ran out of maple ice cream and served me the Java ice cream instead
3. the iced mocha had completely overwhelmed the maple-ness.
It was awful or anything but coffee ice cream on top of iced mocha… Caffeine Overload Alert. The only thing preventing me from bouncing off the walls was perhaps the heaviness of the carbs settling in.
Leaning sturdily over the sugar-crusted pan-fried bread cube was a chocolate cylinder crumb filled with chocolate cream.
When the waiter kindly asked if we would like coffee or tea, I answered 'coffee' without thinking.
Clearly without thinking
for my brain had completely failed to register my coffee-on-coffee situation seconds before.
It didn't help that the Lavazza coffee was majorly strong- 1.5 packets of Equal sugar later, I left my coffee half-drunk, my head throbbing from too much caffeine.
I was actually very full after lunch and I think we can establish by now that I'm not a small eater. The tasting portions were sufficient as each dish was extremely rich and intense with flavour.
Iggy's might seem hoity-toity but it is in fact rather approachable… Er, I'm talking about the ambience, not the price tag. Lunch at Iggy's felt like dining in someone's dining room, albeit phishy-poshy designer-styled dining room. Attentive but unobtrusive service, unexpected flavours and most importantly, good company made Iggy's one heck of a delightful dining experience.
Happy 900th Post!