Food was awesome, service was outstanding and the company was lovely… but the pictures turned out awful. Some things just don't change, do they?
There are new restaurants opening up on a weekly basis in Singapore but with good reason, we headed back to one of our favourite tried-and-tested establishment, Bedrock Bar and Grill, for kw's 30th.
Puffy pillows of carbs.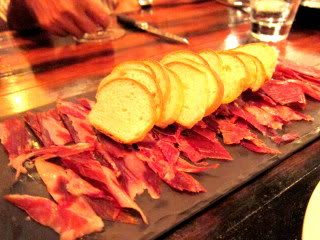 I can't offer much insight on the thought process behind our menu orders as it was kw's birthday and I was advertently fulfilling the role of the dutiful daughter-in-law-to-be… then again, Bedrock is a place where I am happy to let others take the reign as you can't really go wrong with most of their offerings.
Take the Jamón Ibérico De Bellota for instance. I am not much of a ham person but caught on to the extra fine leathery texture as I nibbled away. Nothing like the finest ham in the world to celebrate someone's 30th, ain't it?
As our waiter took us through the menu, he held the Tomahawk Steak as if it were his calling to carry a hunk of raw, bloody flesh. A beefcake that had eluded me on previous visits, the Tomahawk sure is an impressive long-bone ribeye that marries the softness of Wagyu and beefiness of Black Angus.
TGIKB (Thank god it's kw's birthday) !
We came. We gnawed. We tomahawked through 1.2kg worth of beef. Perfect shade of red for medium rare, served with bits of slightly charred edges. It was an e-beef-phiny and well worth the morning-after meat sweat.
The Tomahawk comes with a fitting entourage of five different sauces - a Pinot Noir reduction, classic Bearnaise, whiskey mustard, stone mill mustard sauce (like!) and their signature chilli oil (interesting).
We ordered a bunch of side dishes too. Steamed broccolini, rocket parmesan salad, truffled mash potatoes and I-will-name-my-first-born-after-you, I mean, the Bedrock mac n' cheese.
Oh gaw-, Bedrock's mac n' cheese was even better than I remembered. Larger surface area plus shallower dish equals feverishly awesome crust-to-cream ratio. On top of that, Bedrock uses a thicker pasta tube that holds its mandatory al dente-ness throughout the cooking period (long) and dining session (not that long).
And to round up the sweet evening, we ordered the Bedrock Waffle Ice Cream Sandwich and A Wedge of Chocolate.
Freshly made waffles with honey and fig ice cream… Mmm. After ingesting all that meat, we might as well have waffles since all of it will stick to our ribs till breakfast the next day.
Bedrock's A Wedge of Chocolate was really "a wedge of chocolate". That's it. The 85% Varlhorna flourless chocolate cake was impeccable but please don't have any expectations of a
nougatine ice cream scoop
like I did.
As per Bedrock tradition, the team sang and presented kw with a candle-lit caramel brownie. The Iron Man figurine? My idea – trademarked and copyrighted. Nah, just kidding, you can always pop by the toy department to get one. Kw's a real fan boy of Robert Downey Jr's Iron Man/ Tony Stark character and I thought it would be such a hoot to surprise him! HAHA
Awesome food, outstanding service and great company ... boy, am I'm glad for the things that don't change.