With less than two weeks to the wedding, kw and I invited our bridesmaids and groomsmen over for The Briefing. It was our first dinner party so we were pretty darn excited about it. I even created a Facebook event page for it though we invited less than 15 people *Hides face*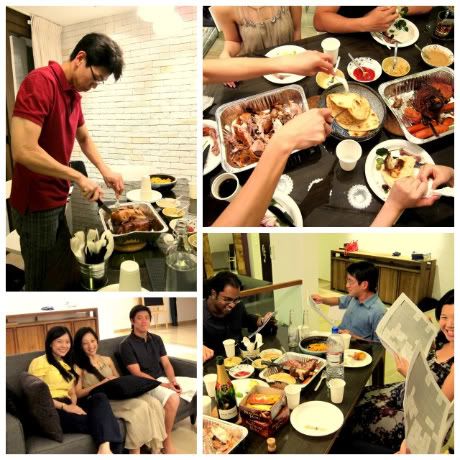 But for course, we made sure our guests were well-fed with lots of meat, booze and sweets. And thanks to Zhu and Jansen, I tried Le Cafe's soya bean tarts for the first time. Love them!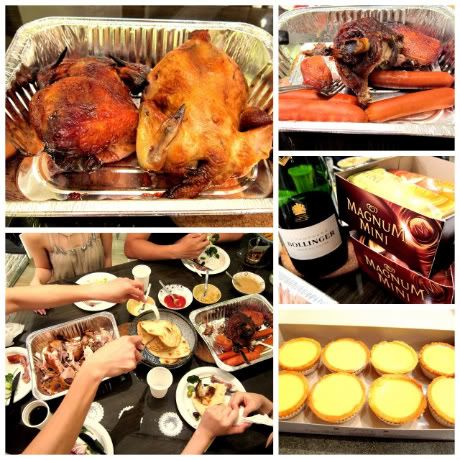 Anyway, though we did miss a couple of folks, the main intention of this party was to get everyone on the same (excel spreadsheet) page for the 2-day affair. So we did up a wedding coordination schedule for both days based on time and space; the final version will come with 3D glasses, I promise.
While kw took them through the A3-size schefule, I decided it was time to execute Operation Shock and Aww.
Just so happened, it was also kw's birthday and I roped in Diana and Yang for his surprise – a Decepticons birthday cake. The Bengawan Solo cake surpassed our expectations, I deceit you not. Layers of light coffee sponge and vanilla fresh cream... This is one old school (technically, he was in primary school) that would give those pretty fondant (hurl) cakes a run for their money.
I asked yang to shock kw and the rest with an emergency and the first thing she said was, "We have a problem - the oven broke down!" I like to think that this is the best reaction I could ask for from someone who is going to bake cupcakes for our solemnization ceremony. Woo yeah!
I think the birthday boy was surprised alright =)
Everyone got on swimmingly (to be honest, I was a wee bit worried about the chemistry between "his" and "her" friends) and I hope everyone had an awesome time. These days I keep hearing my mum and her friends reminisce about those days when we were kids (happens a lot during wedding planning, I hear) and this dinner party felt like one of those occasions that we would be talking about years from now.