Remember how I said I wanted to visit
Shomben Yokocho
(Piss Alley) on my previous trip to Tokyo? Well, we made it there for dinner on our first day and it was quite an unforgettable experience.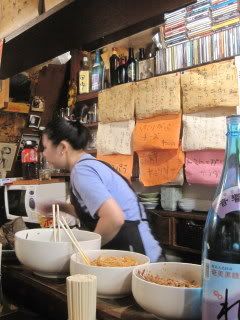 Cds, handwritten menu specials, Japanese wine bottles make up the laid-back ex-musician quality of the yakitori joint. I don't know which yakitori joint I ate in but the owner has slicked-back curly hair and the demeanour of a laid-back rocker. I'm guessing the woman in picture above is his wife?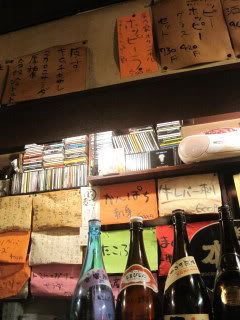 Things started of innocently enough.
A little dish of wakame and squid for starters.
A couple of pork belly and spring onion skewers.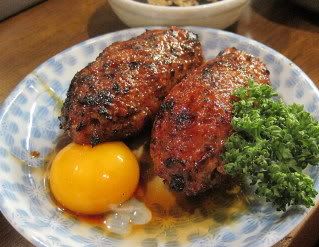 Then we had chicken meatball skewers that I eyed from my neighbour's array.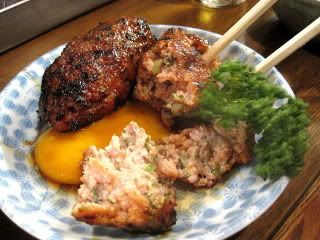 Dipped with a raw egg yolk, god, it was so good. I take back everything bad I ever said about chicken. Erm, almost everything - my hell-no-chicken-breast abhorrance still stands.
Though delicious, I didn't want more of what I could order back at home. With exaggerated lip exercise, we asked for their "ssspe-cials" as pursing and stretching our lips would help make us understood. When that failed, we pointed to some random hand-written menu item on the wall that was priced decent enough to take a chance.
"Ri-ver (liver)," said the owner.
Yikes, I wasn't sure if liver was up my (piss) alley but I couldn't shy back and lose his trust now, could I?
You can imagine how hard I was trying to mask the look of horror on my face when we were presented with a plate of raw pig's liver, with some minced garlic, and diced spring onions and shallots. RAW. PIG. LIVER. Should these words be used in the same sentence without a barf bucket within reach?
But to my incredible surprise, the taste of the liver was very mild since the garlic and shallot nullified any potentially-odd smell; the texture of the liver reminded me of the tofu - and not just any tofu but one that had been merticulously handcrafted.
With our confidence levels boosted, we pointed to another handwritten menu special and were rewared with a grilled tuna collar.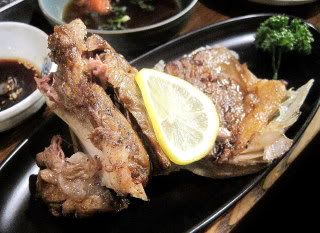 Although I usually stay away from tuna, if prepared well, tuna reminds me of red meat and it's harder to suffer from food coma when one overloads on tuna. Bonus. Keeping that in mind, we poked out every bit of this hunky tuna collar till nothing but bones remained.