I was stuffed from lunch at Napule but the server at GELATERIA BAR naturalBeat had such an earnest, huge smile that I couldn't say 'Nite, onaka ga ippai desu.'
So we wounded up with a triple scoop - wariya (green tea with grounded tea leaves), wassabon (tradtional japanese sugar) and sea salt caramel. Though the gelatos were a little icy, the flavour was bang-on.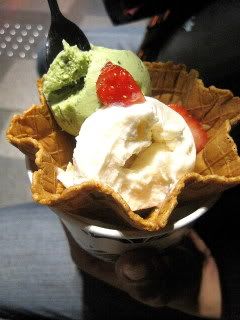 You have to try the meringue-sweet wassabon with seriously salty sea salt caramel. Extra points for crunchy cone bowl.
GELATERIA BAR naturalBeat
At various outlets