Le Remois was another restaurant that reminded of the beauty of doing something random.
After our trip to the Imerial Palace, we decided to have lunch at Marunochi. There were many restaurants for various crowds and budget - high roller bankers, clique-kish office ladies, weary tourists etc.
Le Remois was such a serendipitous find as it provided a casual non-Japanese option for the both of us. For lunch, there were only two set lunches available - 1500yen for main course and coffee / tea; 1800yen for soup / salad, main course, dessert and coffee / tea - and we ordered one of each.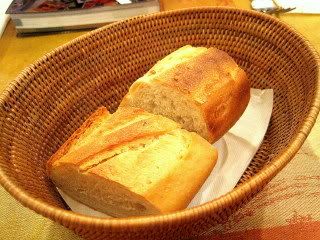 Warm bread, served with extra virgin olive oil (and butter at an additional carge of 200yen).
For starters, there was a choice of caesear salad (
tas-tee
) or pumpkin potato soup.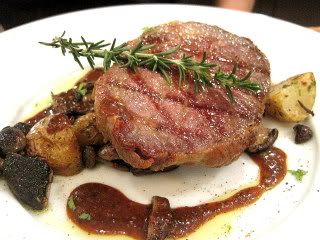 For main course, there was a choice between the chicken confit, grilled fish and roasted pork chop. The pork chop was incredible - pink and flavourful. It was one of the rare moments I regretted not ordering the pork.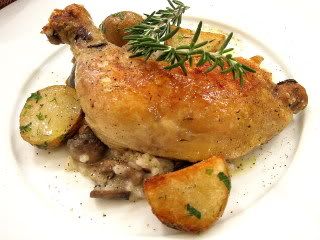 My chicken confit with mushroom risotto was pretty good too. The mushroom risotto was just a little moooshy but still lovely.
We got marron ice cream for dessert, which I thought tasted liked caramel.
This was such a feel-good meal. I left feeling as if I had that rosemary sprig tucked behind my ear.
Le Remois
5F Shin-Marunouchi Building
1-5-1 Marunouchi
Chiyoda-ku
Tel: 03-5224-8771