I'm going to blame my plebian exchange-student-tastebuds. Although I thoroughly enjoyed
my trip to Spain
, the grub didn't cause any out-of-body experience – apart from those damn bocadilos-fillers which forced me out of skinny jeans.
But the tapas way of eating resonates with the snacker in me. Small plates, casual and communal. In Singapore, my point of reference is restricted to
Bodega Y Tapas
so I was quite excited about trying out
Don Quijote
.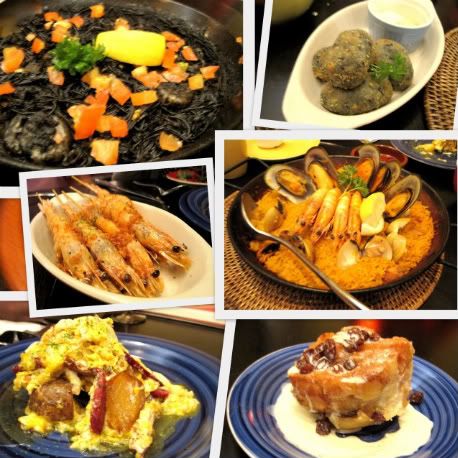 Not in the mood for cold tapas, the family a smattering of stuff under the 'Hot Tapas' section such as Chorizo Asado (barbequed Spanish sausages), Vieiras al Horno (oven-baked whole scallops), Camarones a la Plancha (barbequed prawns with garlic sauce), Ensalada de Esparragos con Atún (tuna and asaparagus salad – nuff' said), Huevos Estrellados (scrambled eggs with chorizo and potatoes) and others. Apart from the slightly runny Huevos, most of the small dishes were likeable, thanks to pleasing elements such as barbeque and garlic.
I liked the Paella Valenciana, especially the
chao da
bits. I tried the Fideua Negra (squid-ink pasta paella) for the first time and I foresee repeat orders of this dark briny fascination, especially since there are
chao da
bits too. Along the same shade, the Croquetas de Calamares (squid ink croquettes) were little orbs of delight.
I smiled at K with blackened teeth that would make a Macbeth witch glee with delight.
Sorry dude, I'm not going to return you the ring. HAHA.


I will be the first one to admit I'm severely biased towards anything with carbs so I thought Don Quijote's Pudin de Pan y Mantequilla (bread and butter pudding) was a lot better than Bodega's Crème Catalana.
Compared to Bodega Y Tapas, Don Quijote feels more like a TGI chain. However, the variety beats Bodega's and the food is good enough for a casual family night out.