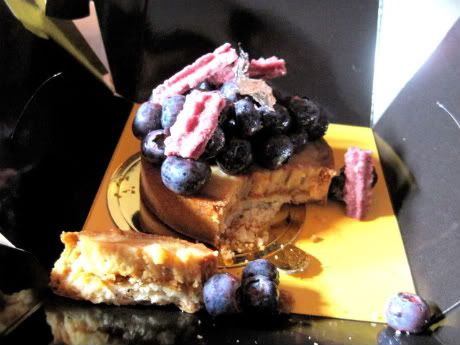 TWG's blueberry tart
What were you thinking? This blog died or something?
Thing is there has been a lot going on in my life. Wedding planning, optional occasional drama, upcoming renovations, potential hoohas with the contractor etc. I have spent much of my weekends looking at bathroom fixtures, driveway tiles, and I think we might look at kitchen cabinets this weekend.
I am definitely living through one of those memorable-lfe's-milestone period. Funny enough the more I have to share, the less I want to talk about it. Not that I have that many readers, but there is something weird about dishing out my life out there in the World Wide Web.
It was easier when I blogged about food. Insert pictures taken under bad lighting, largely unqualified reviews, but real personal comments. It was definitely a lot easier to blog about nice, tasty, juicy, meat-fall-the-bone food.
I'm not about to shortchange your time by posting a bunch of pictures and links to other people's blogs. Maybe I will find the inspiration to blog properly again - and by properly, I mean, meaningfully - even if no one but my mum and the occasional accidental passer-by reads what I have to say.
Meanwhile, I came across this lovely
blog
while blog cruising. Enjoy.
Ha.