Over last weekend, the weather was good for us to stay away from cafes and malls, and we played 'Tourists' at Chinatown (sidenote: 'Tourists' is highly recommended). We started out at Erskine Road and Ann Siang Hill before making our way down to People's Park Complex through Temple Street. Ann Siang, with its posse of poseurs, felt contrived and I wasn't even the least bit tempted by the delicate pastries at K Ki, strange huh? On the other palm-reading hand, People's Park Complex was filled with more character than the revamped enclave and the throbbing Sunday crowds caught us by surprise.
We walked past plenty of bak kwa stores and Chinese bakeries but it was
Leung San Hong Kong Pastries
that made me stop, gawk and do a double take. Unlike curry puffs, egg tarts are something which I have never been able to arrive at a conclusion for – tart shell, that is. Call me flaky but as long as it is fresh out of the oven, both the power puff pastry and down-to-earth shortcrust pastry are fine by me.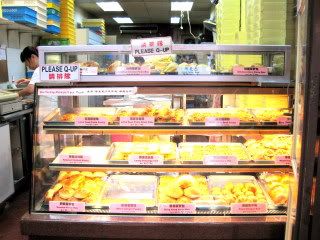 Though this sweetie looked like it had been sitting around waiting for a pick-me-up, it felt warm in our palms and we devoured it immediately outside the store. Yes, forget about bringing it home or saving it for breakfast tomorrow, egg tarts are best eaten fresh out of a rickety brandless oven. Bequeathed with the flakiest, butteriest egg tart shell and weak-in-the-knees egg custard, this egg tart was serious good stuff.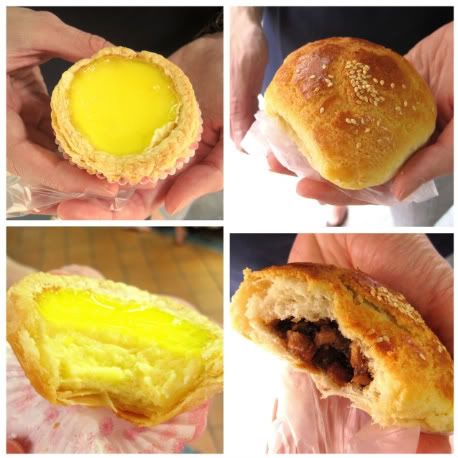 Breathless, I scooted back into the store for a po luo bao that they seemed to specialise in. Leaving the plain, custard and sausage versions behind (I swear I would love to have each of you), I chose the roasted chicken for some protein with my carbs. The roasted chicken was char-siew-like, encased in a butter-crumbly, pillow-soft shell. Though it fell slightly short of
Tai Cheong heights
, it was a satisfying tea time snack at 4PM in the afternoon.