The words "Tai Cheong Bakery" and "egg tart" never fail to appear within the same sentence. Tai Cheong Bakery's famous egg tart was nicknamed "Fat Patten's Egg Tart" as "Fat Patten" was the ex-British Governor's nickname in Cantonese. How very unflattering.
Anyway I found the hoopla over the egg tart overdone and it basically receiving too much unnecessary attention. Thus I got the BBQ pork pastry (chaw siew pastry) instead because I love char siew pastry and an oversized char siew pastry seemed like a befitting mid-afternoon tea snack.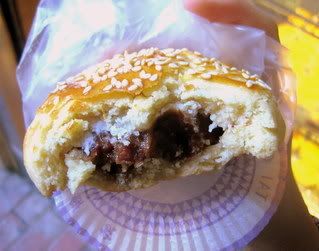 As soon as I bit into the "pastry", the shell crumbled effortlessly, reduced to a buttery guminess that almost brought a tear to my eye. It was no ordinary pastry, more like a Char Siew Crumble!
If you love crumble, especially the ridiculously buttery kind, you need to get one of this.Tai Cheong Bakery
35 Lyndhurst Terrace
Central
http://taicheongbakery.com/