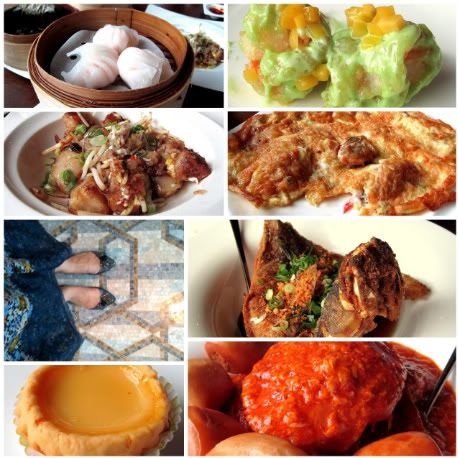 Chicken Feet in Black Bean Sauce Steamed Pork Siew Mai with Fish Roe Steamed Glutinous Rice wrapped in Lotus Leaf Steamed Barbeque Pork Buns Braised Tofu with Minced Meat Stir-fried Monkey Mushroom with Dried Chilli Roast Chicken Braised Fish Maw with Chicken and Carrot Reductions Wok fried Sliced Beef with Sweet Basil Leaves Signature Wasabi Prawns Steamed Fillet of Chilean Seabass with Soya Bean Crumb Sauce Fried Omelette with Oysters Chili Crab Deep Fried Soon Hock with Superior Soya Sauce Fried Rice with Chicken and Salted Fish XO Sauce Carrot Cake Congee with Preserved Egg and Lean Pork Flaky Mini Egg Tarts Vanilla Bean Ice cream
As there were other plans for my birthday weekend, I had birthday lunch with my family (sans sis in Hong Kong) the weekend before at Jing. Though thoroughly enjoyable, I felt the smack of the Geneva for Human Rights treaty as soon as I stood up to leave.
BURRP!
It's been three days and I'm still suffering from SPF (State of Perpetual Fullness).