By golly, has it been a year since we last paid a visit to Shibaken?
How things have changed one year on! Cherub Shibata is no longer around; the kitchen is now led by a boyish lad (well, young by Chef standards) Takeshi Motomatsu; instead of two 10-course and 5-course degustation menus, there is only one 8-course menu but an additional a la carte menu; and from what I've heard, lunch offers a pretty good deal.
We started out farmland-friendly with a thickly-sliced Wagyu carpaccio salad that had a smattering of Parmesan cheese and a drizzle of raspberry vinaigrette.
Next up was foie gras with burdock and aged balsamic vinegar (big love).
And then we had a luscious cream of cauliflower soup. If you are wondering why I'm not elaborating on these dishes, well, they are pretty self-explanatory if you have been following food blogs long enough.
Oh I almost forgot - the soup was accompanied by pillowy multigrain bread with oven-warmed crustiness.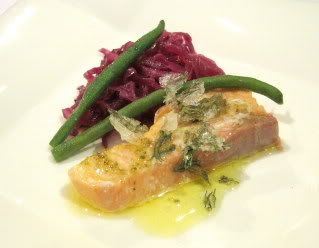 What made me decide on the degustation was the salmon confit but unfortunately, it was a little overdone i.e. not completely dry but that desirable desirable soft, almost-raw insides. Also, the too–sweet crystallised salmon skin provided a bit of crunch to the dish.
As for the meats, the roast kurobuta was better than the pan-seared duck breast. Though both were spared from overcooking, the roast kurobuta was percy-pig-pink lovely, while duck … well, let's just say, I'm not a boob person.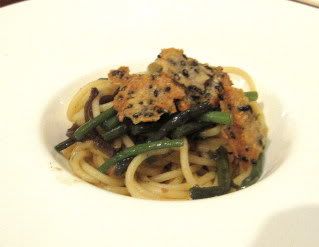 As for our carbs, the pasta sautéed with mountain vegetables was on the salty side but not unbearably so.
The only that made a reprise from last year's menu was their signature soba and mullet roe. Though the flavours were duly appreciated, the soba was a tad too tender for me liking.
Unlike last year's chocolate dessert trio, we had a Franco-Jap throw-together this time round. Not the ozzy-insides type, Shibaken's chocolate fondant felt like a hardcore chocolate ganache. Look, I tried.. but if you are a satsumaimo nut like me, it's hard to find fault with a sweet potato pound cake. On the other hand, the homemade mint ice cream looked and tasted as if the Ice Queen had breathed into it.
I wish the Chef were bolder in his flavours and that there were more Japanese influences. But that being said, the restaurant still offers an utterly serene environment (though I was tempted to bolt when I saw a three year-old kid walk in with his parents, and er, two maids in uniforms). We took the seats we had a year ago and the kick of sitting by the counter, watching the chef meticulously prepare our meal still excites. Shibaken isn't perfect or for everyone, for that matter; but I have fond
mushy
memories of Shibaken - and that for me, is irreplaceable.
Shibaken French Cuisine
1 Nanson Road
#02-02A
The Gallery Hotel
Tel: 6836 1613