These days, fusion is just about as desirable as an arranged marriage where two people are forced to co-exist under the same roof, despite a clear lack of chemistry. Yet Shibaken French Cuisine bucks the trend by successfully marrying two of my favourite cultures – French and Japanese, spinning off a love affair with Chef Kenichi Shibata's delicate creations.
There were only 2 degustation menus for dinner and I kept flipping between the menu pages, trying to figure out if I should go for the more modest 5-course Petite Elegance or indulge in 10-course Elegance. Eventually, the Voice of Logic (not mine obviously) spoke up for Elegance.
I would love to say that some of the best restaurants have the most photo-unfriendly lighting but the truth is my dusty ol' 4 year-old is fighting to keep up with its slimmer, sharper counterparts. I'm still hanging onto it for sentimental reasons, so please bear with the blurry-blah photos.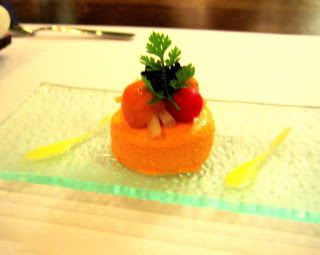 The Amuse-Bouche was a uni mousse-pate, mixed with smoked squid and caviar that had the consistency of an incredibly soft tofu. It tasted mild initially but the distinct flavour crept up quickly.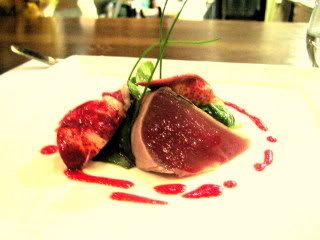 Next up for our Hors D'oeurve, a trio of gently-boiled Canadian Lobster, Hokkaido hotate and bonito sashimi assembled to offer blessings from the sea. I loved the subtle sweetness of the lobster and hotate but it was the bonito that distracted me from my own sentence.
The seasonal vegetable salad was likeable but the raspberry vinegar dressing too dessert-like for me. I could imagine it alongside some tart and berry coulis but on a seafood starter, hmm maybe not.
The Soupe Chaude, soft cabbage cream soup, was perfect-rainy-day food. It wasn't any ordinary out of a pack Cambridge-Diet cabbage soup but
Hot Spring
Soft Cabbage Cream Soup. I have seen onsen work wonders for the human soul so the cabbage probably benefitted from it as well.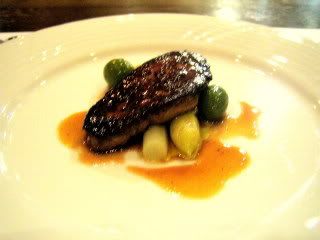 Like any IT girl at a party bash, foie gras is a must-have on any degustation menu. The Deuxieme, pan fried wild duck liver sat on top of a couple of white asparagus stalks, accompanied by a couple of Japanese green olives. No doubt, duck fat is good for you... GOOD FOR YOU... even if it gives you cankles.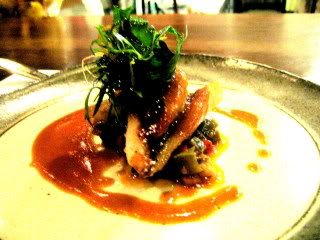 For Poisson, the kitchen had stacked slices of sauteed rascasse (a Mediterranean white fish) on top of stewed vegetables and drizzled it with Bouillabaise sauce.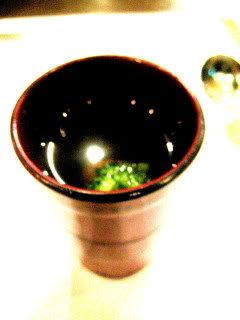 The Consomme, clear soup with a scallop fish ball, spiked with chopped Japanese lady's finger and konnyaku, took me
right back to Kyoto
. Incidentally, Chef Kenichi Shibata hails from Kyoto (que dreamy look for erm, Kyoto).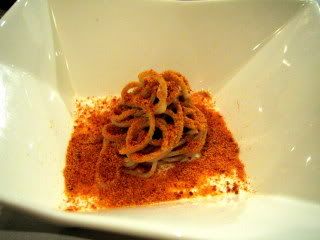 I thought the Pate, cold buckwheat noodles tossed with grated dry mullet roe, was really interesting. Grated mullet roe suddenly seemed like one of those things that would go well with any carb.
Bread, pasta, rice ...
Grated mullet roe, hmmm I can tell you it's going to be so hot. Like bone marrow, you are going to see it over over NYMag, Serious eats etc.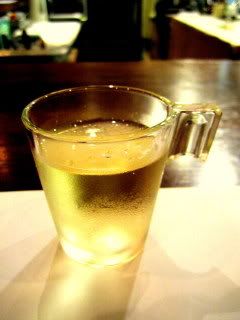 The soba was served with a shot of sake, which I wet my lips with. No a fan of alcohol, not even close to becoming one.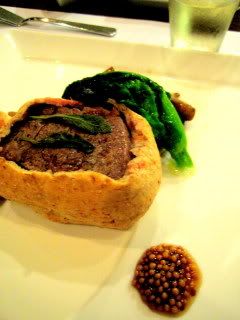 Things got a little shaky with the Viande, a roasted Australian Wagyu with baked with sea salt bread, sage and sauted mushrooms. This dish was pretty interesting as one of the sous chefs started preparing this when our Amuse Bouche was served, kneading the dough and wrapping the wagyu within. So essentially the sea salt bread was baked from scratch and cooked with the beef.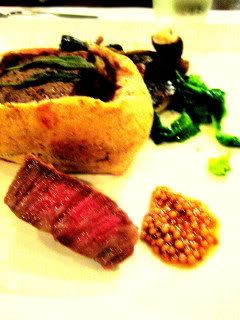 Sadly, the wagyu was more done than I would have liked. Although the mustard seeds were cool, some caramelized deglazed sauce would have helped offset the savouriness.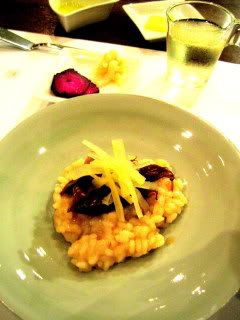 I was also let down by the Riz Soupe "Miso" Rouge Et Legumes Vinaigres, oolong tea risotto with firefly squid and pickled radish, red miso soup and pickles. Sad because I was really looking forward to the mushy-on-the-inside-but-firm-on-the-outside risotto. Instead, this risotto was grainy and one of those (very very) rare moments where I didn't finish my carbs.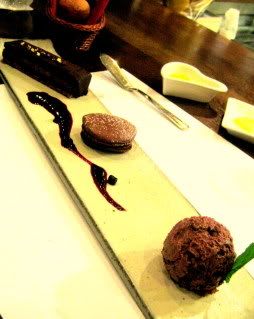 Dessert redeemed the evening with 3 different variations of chocolate sweets - home made gateau opera, chocolate macaron and chocolate ice cream.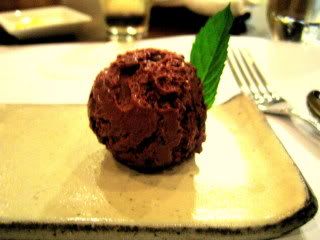 I like chocolate but chocolate ice cream is also something I never order. Compared to a 70 cents vanilla ice cream cone, there are very few redeeming qualities about lousy chocolate ice cream and very little one can do for damage-control. That being said, Shibaken's ice cream was lip-coatingly rich and dotted with crunchy chocolate pearls.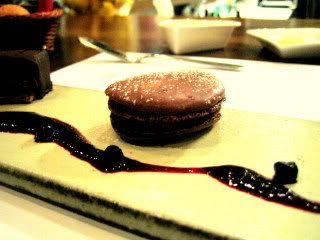 The macaron was of the dense chewy kind but the high chocolate content was blissful. Although it wasn't a conventional multi-layered gateau opera, the chocolate frosting made the fat lady smile.
Dinner eventually wrapped up with a cup of Peppermint Tea. Curiously, it tasted good even without my usual packet of equal sugar.
If you get the chance, sit by the counter for the Chikalicious feel. After, Chef Kenichi Shibata came by to have a quick chat with us. What a sweet guy, I almost feel bad for not finishing the risotto. I guess now is a good time to say,
I Can't Believe it's Fusion!
Shibaken French Cuisine
1 Nanson Road
#02-02A
The Gallery Hotel
Tel: 6836 1613