It was a meal that would have thousand words.
Thank you for brining me up to be a useful person to the society. Thank you for giving me those years of education that landed me a job at one of my favourite brands in the entire world ("… is just awesome") and a timely bonus. Thank you for not kicking me out of the house when I turned 21 or charging me rent for that matter...
But you know, I thought dinner at Ember would do a better job of celebrating the moment.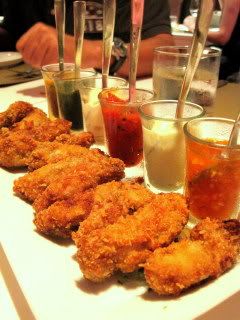 The warm sundried tomato focaccia was tear-ably good and us, Friends of Carbs, easily polished off 2.5 loaves.
The oysters were incredible, weren't they? Bread crumbed-crunchy yet eternally-and-internally juicy, the dozen did a sharp tango with the Japanese mayonnaise, wasabi mayonnaise, tomato chutney, Thai sweet chilli, mint and oriental sauce.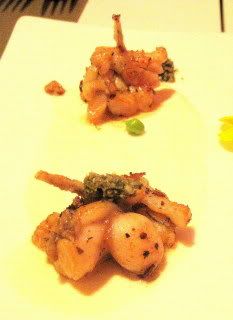 I didn't hear much from Mum's side of the table when you guys tucked into the herb-crusted frog legs so they must have been good.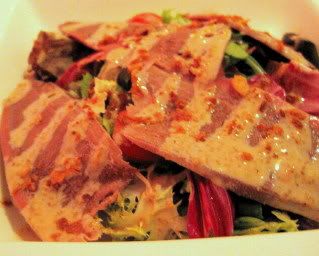 Ox tongue anything always reminds me of ox tongue sandwiches I so love. This salad had a dash of creamy sesame dressing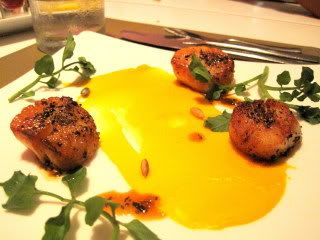 And on that tone, the scallops, paired with spiced pumpkin puree and shellfish vinaigrette, were honourably fresh and sweet.
The only starter I didn't quite fancy was the underwhelming angelhair pasta with sakura ebi and lobster oil.
Yang, perhaps if the ribeye was available you would have gone for that. But I'm sure you enjoyed your lamb... like mum, who probably thinks, lamb, like "love" is a beautiful 4-letter word.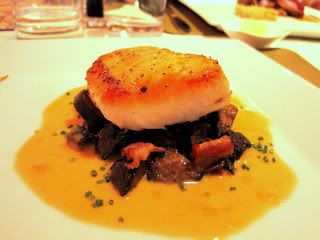 Dad has always been a fish person so I was thrilled he liked the mentaiko-crusted seabass – the badass of all fishes since it's so eco-unfriendly. Bet he enjoyed my Chilean seabass with bacon / mushroom ragout and yuzu truffle butter too. And that's why I ALWAYS have difficulty choosing either fish dish.
We might not have experienced the whoa-some apple tartin but the banana tart with lavender ice cream was just as lovely. For the first time, I didn't feel like I was eating lavender potpourri.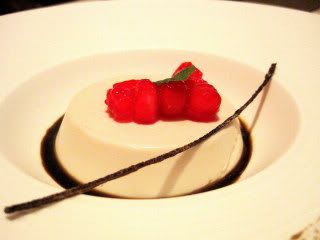 I'm more than vaguely aware of the fact that my parents don't have unbearably sweet teeth (gee, I wonder why I got that from). But I was willing to bet on the panna cotta because they can't resist gula melaka (Dad) and coconut (Mum). Bingo!
Restaurant Ember
50 Keong Saik Road
Tel: 6347 1928