Going
once
, going
twice
, sold to the buyer
with the loosest belt
!
I'm always such an eager-beaver when it comes to trying new things at Ember. This time round, I had the Italian parma ham, with a sheet of compressed watermelon, and asian pear paired with aged balsamic vinegar.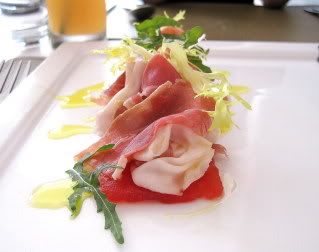 Most of you would know what parma ham, watermelon, asian pear and balsamic vinegar taste like but how about together? Well, something along the lines of smoked saltiness with a touch of juicy-sweet. Great for home parties – check.
I had to get my fix of bottarga hollandaise at Ember and the mentaiko-crusted seabass did a mighty mighty fine job of sealing my love. Three words: unctuous, creamy fattyness. My knees can stopping shaking now.
My lunch companion has superpowers. No ok, actually she's just on really good terms with chef Sebastian Ng, who sent out a complimentary dessert. Of course, anyone who can command free dessert qualifies as having superpowers in my book.
Doesn't this dessert look like a Loang & Noi showpiece? The green apple granite, pickled cucumber and celery were hmm, odd and nasty in that order. The white chocolate panna cotta, on the other hand, was good in an I-might-start-eating-panna-cottas-if-they-all-taste-like-that way. Vanilla creamy, uber smooth, it was show-stoppingly good.
You guys should try the coconut panna cotta with red rubies even if this is available. If you don't like it, you can punish me – with that panna cotta.
The dessert I ordered, Thai tea ganita, with vanilla custard and diced mangoes, was perfect for the stifling hot hazy weather these days (on that note:
Wassup with that, Singapore?!
).
Restaurant Ember

50 Keong Saik Road
Tel: 6347 1928