eros for ember.

forget what you have heard from others-
MY experience at resturant ember (hotel 1929) was mind-blowing.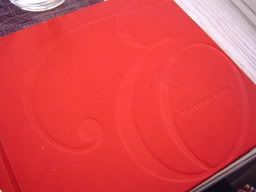 this was kind of like my birthday lunch since i have always wanted to visit this resturant, so the three of us- mum, yang and i made it a point to visit ember today. as soon as we got off the cab, a lady opened the entrance and greet us with a wide grin. welcoming attentive service? -check.

figuring out that we could share, yang and i ordered set lunches while mum ordered an ala carte. i know after reading kitchen confidantial by anthony bourdain, i should have enough foie-sense than to order "set lunches" but seriously the dishes here at ember easily trounced the usual myth.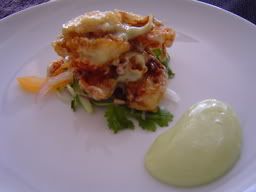 my appeitizer was decided upon recommendation. like as if i would walk into a non-japanese resturant and order 'tofu'?! but this roasted egglant with homemade tofu and mushroom is wow! the eggplants were mush-soft without that churlish feeling and the tofu was sinlessly good. you really have to give the chef due credit for coming up with such an unusual but winning collaboration.
yang's appeitizer consisted of deep fried soft shell crabs with sweet wasabi aioli. though predictable, this dish here was surprisingly tastbud-teasing due to the unusual sweet wasabi.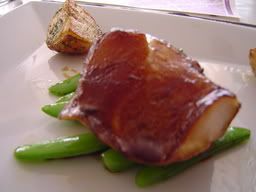 onto main courses, marinated cod with black miso and herbed potatoes
braised lambshank with mash potato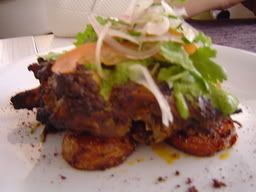 oven roasted marinated spring chicken with blood orange and thyme jus, mash
& lambshank undone
though the main courses did take its sweet time to arrive, the taste, not to mention service, more than made up for it. our waiter apologized for the delay without us even having to raise an eyebrow. the taste? ok *drumroll, i think this is the best lamb dish i have EVER EVER in my LAST few days as a 19 year old tried. tender to the core, the lamb was an absolute delish. on top of that, the mash potato mix stew gravy was a bundle of buttery goodness. must order for sure!
the chicken glazed in pesto sauce was a safer dish and delectable enough though i did prefer the pepper roast potatoes that it was sitting on. i have not had cod fish in a longggg time so yang's cod was like a heartening nostalgic dish. well, like many fishes, cod is an acquired taste. extremely fresh and cod-dish-smelling: fish-fiends- beware; fish-friends- go for it!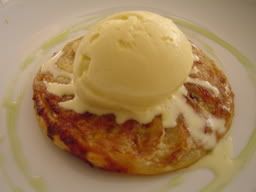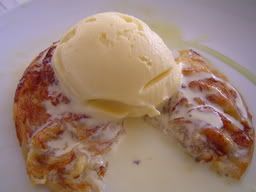 a satisfying meal ALWAYS ends with dessert -wink. when dessert's missing, it is like a fantabulous cheeseburger without the urm.. cheese! i had a warm banana tart with homemade lavender ice cream while yang ordered the frozen banana and pureed white chocolate ice cream topped with chocolate-covered cherries.

having only tried elderflower before, my fetish for flower-flavoured ice creams was sealed after trying out the lavendar. though i was disappointed that they had removed the basil crepes with jasmine ice-cream from the menu, this banana/ lavander dessert was extremely comforting. eat it fast though, because when cold meets hot, cold duh-melts-fast.




peppermint tea- soothing end to a riot of flavours.

ember is an engaging mix of substance and style. it is definately not one of those resturants that depend on frou-frou-ambience to sell. perhaps i was lucky- i ordered the right stuff but my experience at resturant ember will definately be hard to top.