One day, back-from-Boston Edward rescued me from the drabbyness of my workplace vicinity and we both headed to Ember at Hotel 1929 for lunch.
Recently mentioned in
Financial Times
, this is my third visit to Ember Restaurant and still as every bit enjoyable. While Ember has been known to not make drastic changes to their menu, I guess this fits people who twitch uncontrollably when they can't find their go-to dish.
The since-it's-not-broken-why-fix-it homemade crispy tofu, soft shell crab with wasabi aioli, miso cod and warm banana tart are still on the menu. Edward stuck to his favourites – soft shell crab, miso cod and warm Varlhona chocolate cake, while I decided to take a new route – at least for starters and main course.
The complimentary sun-dried bread that as raved about as its mains.
It's amazing how idiot-proof simple it is to get people to like your restaurant when you serve fingertips- and-heart-warming complimentary bread.
For my starters, I was nobbing between the pan-seared scallops and bamboo clams but settled for the clams as they were a lot less commonplace than their other shellfish counterparts.
It was fantastic. Steamed bamboo clams sliced up and served on a manicured lawn of bottarga hollandaise. The cheesy, creamy and slightly fishy sauce spruced up the unapologetically-fresh bamboo clams without overshadowing them.
WHOA, I have a feeling that bottarga hollandaise would be my new "wasabi aioli". Someone please make it into a dip for chunky fries!
I don't think I could pull a string of sentences to fully describe how much I enjoyed the pan-seared Chilean seabass with mushroom and smoked bacon ragout. Clean oilish seabass ... pan-seared crisp crust ... smoky creamy indulgent ragout ... AHH, sorry that's the best I can do. But it was
awesomeeee
.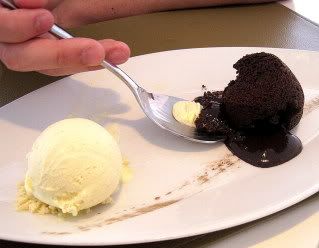 Warm Varlhona chocolate cake (WCC) may be ubiquitous but it's like how I always tune into CNN or Discovery Channel when I'm on a holiday in a foreign- speaking land. A familiar comforting blimp amongst a sea of I-donch-get-chew channels. And Ember's WCC was a very competent version.
Initially I ordered their Dessert of the Day - nougat and lychee sorbet, but when I saw how unsatisfactory tiny it was (as it being served at my neighbour's table... poor neighbour), I felt a strong sense of moral obligation to not blemish my experience.
I changed my order to the (massive) tiramisu, which came with a smooth and rich chocolate sorbet… and a little rum to make my Thursday afternoon more palatable.
Restaurant Ember
50 Keong Saik Road
Tel: 6347 1928