The people at Bedrock are
gooood
. In a CIA-secret-service kind of way. They managed to find out from the least-suspecting member of the group that it was Yang's birthday. Grub for thought, Yang was one of the 5 birthdays celebrated on that same night.
The last time I visited Bedrock Bar and Grill,
I penned a rah-thur snarky post
that made me sound like an old fart, who was approaching man-nopause. This time round, I'm happy to sound otherwise though it's not time for the confetti and bird seeds yet. So how did they go from 'Meh' to 'Yeah'?
By inviting me to go on a tasting session.
JUST KIDDING.
Yang's birthday. Focus!
Well for starts, instead of an insipid naan-wannabe, their current bread is a smokey comfort pillow of imaginable delectation when rubbed against butter and garlic. *Accepts peace offering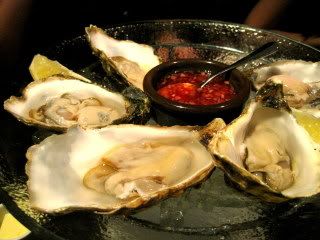 Half the table shared half a dozen of shucked Irish oysters because the rest of us were adverse to the idea of plump, briny oysters sliding down our throats. Served with red wine-shallot mignonette and lemon, they weren't hugeass oysters but the eaters couldn't fault the bang-on freshness.
A few of us shared a two slabs of grass fed Australian Ribeye 400g. They gave us each these stone plates, which made me feel a lot better for sharing a steak. I love it when restaurants don't raise an eyebrow when diners request to share food.
Hey you there with the unibrow, stop wincing!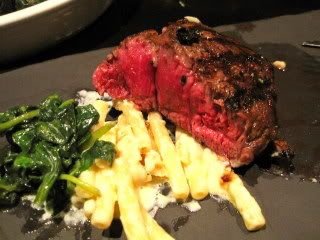 Juicy, tender (boy, am I ever good with words when it comes to describing steak), the Ribeye was slightly grilled, spotting a rareness roughly about the thickness of my thumb. One found the steak under-salted but I found it just fine. Maybe because I was busy with the sides as well.
We had an assortment of sprightly steamed broccoli, just-ok truffled mash, rocket salad, creamed spinach and a flippin' awesome mac and cheese.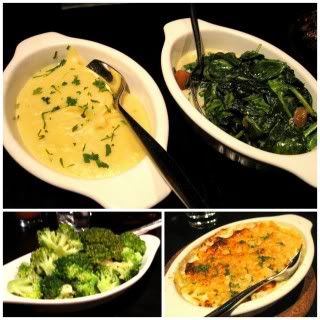 I love the lovely sweet roasted garlic nubs, which accompanied the creamed spinach. The last time round, the mac and cheese was WTF-boring but this time round, it was WTF-good. My unsophisticated tastebuds can't discern the cheeses involved but it was a cheese-creamy harmony, especially with that crusty crown.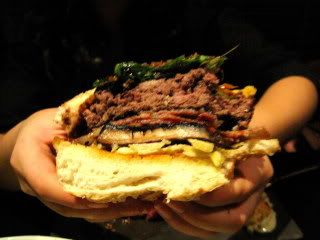 Chopped steak & bacon burger, a laudable feats of 100% US prime angus beef, portobello mushroom, hot whisky mustard, aged cheddar and fries. Am I a burger expert? No... But would I recommend it? Yes, Uh-uh you betcha bacon ass...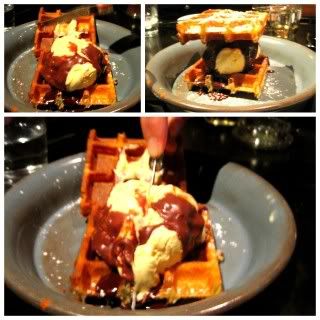 They replaced the sub-par Bedrock Ice Cream Sandwich with a Bedrock Waffle Ice Cream Sandwich – another 'yay'for Bedrock. The hokey pokey (aka honeycomb) ice cream could have had more
hokey pokey sch-spazze
… but the toasted waffle stayed crisp from start to end – while we replayed Destroy in Seconds with the apple crumble.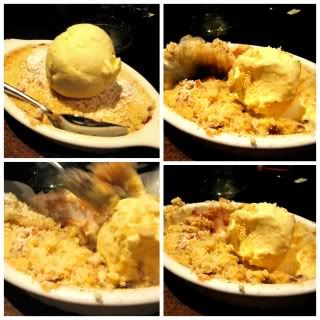 They definitely tweaked their Bedrock Crumble too. Oven-baked apples, covered with walnut streusel and vanilla-beaned ice cream, it was what Apple Crumble dreams are made of.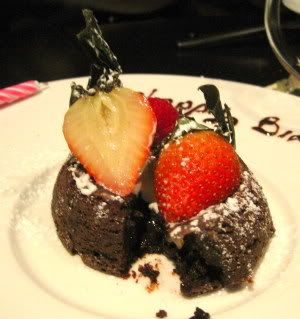 They came. They sang. They gave Yang a molten chocolate cake.
Though the molten chocolate cake has been much downplayed by ubiquity, it never -ever- fails to satisfy. And this was a nice gesture from the Bedrock folks, so I'm not going to get fusspot over it.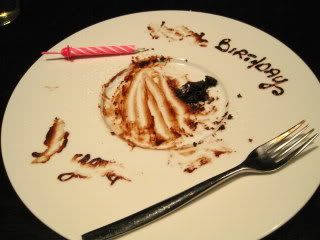 Bedrock Bar and Grill
96 Somerset Road
#01-05 Pan Pacific Serviced Suites
Tel: 6238 0054