The heavy wood décor at Bedrock Bar & Grill was striking though I prefer the look of Oriole's intimate bistro-ish setting.
When they passed us the menu, Bedrock tried to pull the Morton's menu- diatribe which was a big mistake – unless you have a hugeass onion loaf to keep us occupied.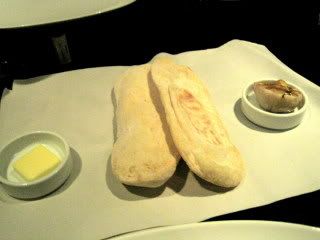 But instead of hugeass onion loaf, they served us flat bread, which looked like a naan but was naan-t as good. The aroma and fluffiness of Banana Leaf Apollo's naans still lingers in my mind.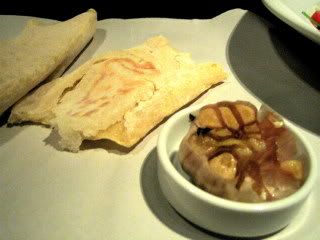 The good: I love how Bedrock delivered their flat bread wrapped and unraveled in front of us as if it were a concubine arriving in the emperor's bedchamber.
The not-so-good: It had a nice tearable texture but even with the quite-yums garlic clove and butter, it was terribly bland.
Pau took one look at the starters and remarked, "I know what Xiao's gonna have. The bone marrow and mac and cheese…"
Kinda creepy because she did hit my sweet spot.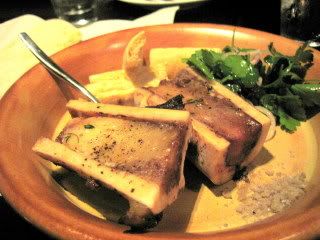 I have been looking for a chance to salvage my WTF experience at Prive. Bedrock's roasted marrow looked amazing and was served with warm toast sticks. However I should just come right out to say that bone marrow and I could never get along. I think I can see why people would beg
borrow
or steal for this (I would do that for otoro) but nah, bone marrow's not my thing.
But if it is yours, please ignore the above paragraph from the third sentence onwards.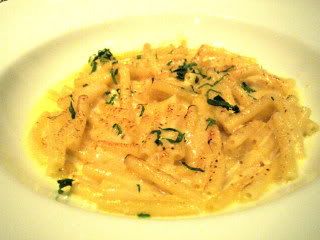 The mac and cheese fared slightly better though it didn't fly. It was a little murky and I missed the crowning crisped glory.
Salad was totally forgettable.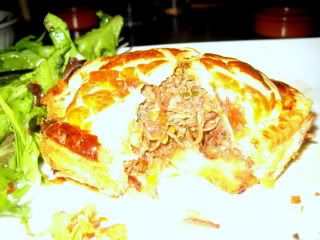 As I just had steak at Les Bouchons, I wasn't in the hunk-of-meat mood and the Cheeky Beef Pie sounded interesting. It was good but not outstanding. Kinda reminded me of those takeaway pies from your neighbourhood confectionary.
My neighbor and his neighbor both liked their steaks.
I would recommend the twice cooked duck. For something that was subjected to 2 methods of cooking, it was good but not hubba-hubba.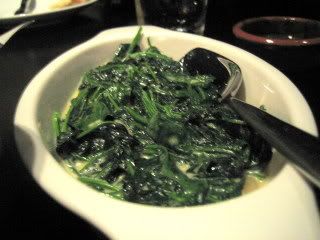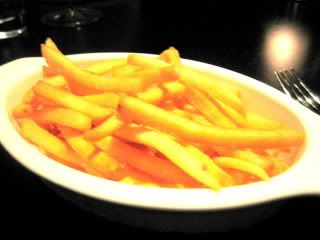 Ultimtately, it wasn't happily ever after for desserts.
The banana foster was probably the best of the lot because the rest ranged from 'good but I've had better' to 'seriously... am I on camera?'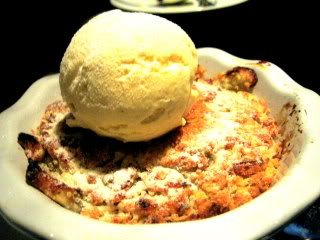 The apple crumble, served with walnuts and vanilla ice-cream was good but nobody's going to rave about it the day after.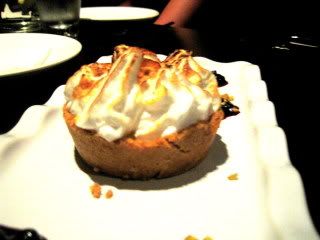 The heavy whipped cream on the calamansi pie drowned out any tanginess it might have possessed.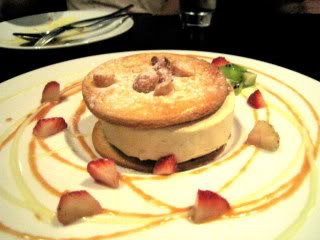 After three desserts, I was literally squirming with dissatisfaction so we ordered the Bedrock Ice Cream Sandwich. It sounded promising because it was eponymous and you won't name something mediocre after yourself right?
I hate it when logic fails me.
Upon arrival, the ice cream sandwich struck me as plain but …
no judging… let me try it first
. Let's just say, the pedastrian crunchy almond biscuits were GREAT against the backdrop of tasteless ice cream.
I honestly didn't mean to sound so snarky but I'm not going to waste more time on ok-so-so places.
Bedrock Bar & Grill
#01-05, Pan Pacific Serviced Suites
96 Somerset Road
Tel: 6238 0054