If
you've reading my blog
for the
past couple of years
, you would know that my family traditionally hosts New Year Eve's dinner for our family friends.
Arh
family friends
, people who have been around since you were nothing more than an egg waiting to be fertilized; people with the ability to destroy lives by possessing albums-full of awkward childhood-growing-up photos; but most importantly, people who don't ask for a lot but give out tons of niceties.
It goes without saying that we awaited the arrival of 2010 with more fooding. At most gatherings I've been to, there is always enough food to last us till next year's New Year's Eve party - and this year was no exception.
One of our family friends, who co-owns Blue Spoon, prepared the meats, which included a whole friggin' salmon packed with lemongrass, lemons and tomatoes, roasted leg of lamb, pork ribs, and an insanely delicious pasta. Aside from that, we also had a bacon-riddled potato salad, mesculun salad with Japanese goma dressing, and sushi.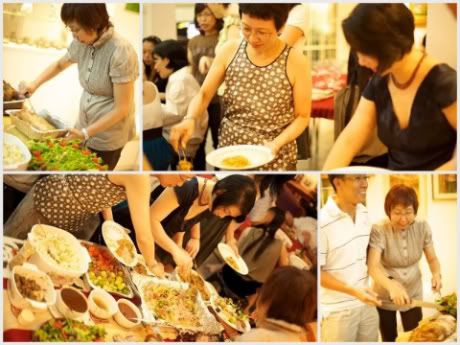 For dessert, there were a couple of tiramisu log cakes and a rich dark chocolate cake from the guy behind Truffs. Oh did I mention there were bowlfuls of chocolate within a midget's arm's reach? Of course, there was also a never-ending flow of wine and champagne
.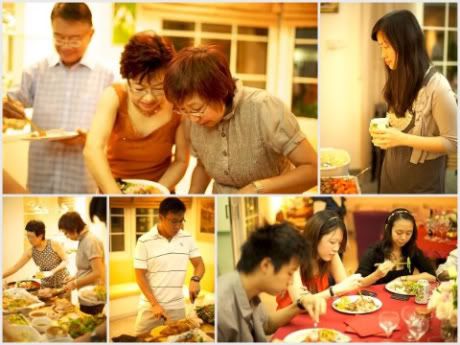 You know the food is good when you don't mind eating leftovers the next day.
And I hereby summon the megawatt powers of the microwave oven.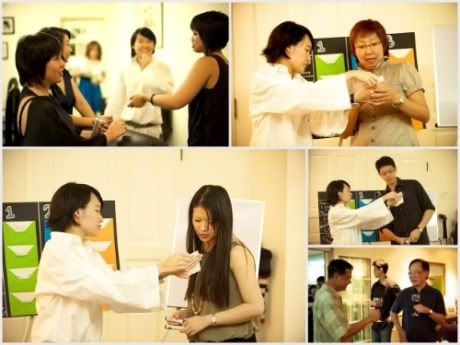 We laughed our guts mad-aching playing win-lose-or-draw/charades. I so miss game nights. Oh, who am I kidding? I must have been to like two game nights in my entire life … but this was helluva lot of fun and made me think,
Hey, why don't I organise a game night some time soon?!
Stay tuned.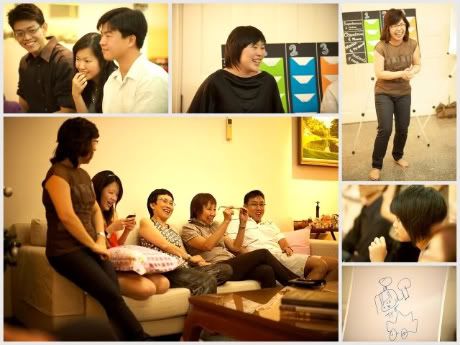 I think I'm one of the few who still believe in New Year resolutions. I have a few up my puffy sleeve but I will only reveal them at the end of the year - to save myself from morbid embarrassment should I fail to uphold them.
Food-wise,
1. I resolve to eat healthier and better. This is probably going to be the hardest resolution to uphold.
2. I know I sound like the Lion-Monstarrr that Stole Chinese New Year but I'm done with breakfast and brunch. Sorry to be a party pooper but eggs benedict and pancakes can only go that (fluffy) far. Hello Lunch!
3. I've also more or less satisfied my curiosity with molecularish funky food in 2009. Foam, mousseline and puree ... I'm saving you for my imaginary godchildren.
4. Though I haven't been a fad chaser in 2009 (can't keep up with the young ones these days), I will continue to stay away from any establishment that has been recently written about in the papers until the hype RIPs.
Anyway here's wishing you a close-to-perfect 10 (because perfection is overrated) for you folks in two thousand and ten.
You say to-mah-to, I say twenty-ten.