I was interested in Le Figue's brunch as I wanted to see what this modern French restaurant made out of hearty brunch grub. But halfway into the meal, I found myself trying to 'figue' out what I was paying for. By the end of the meal, I wondered why Le Figue was even trying to break into the Brunch scene with its cheerless brunch selections.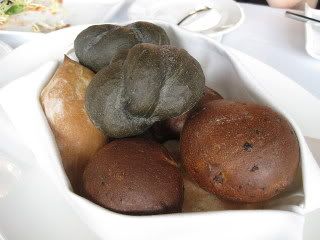 Within Le Figue's Bakery Basket, I was happy to find at least four varieties within the assortment of homemade breads. Funny enough all the breads tasted pretty much the same despite their obvious superficial differences. Nonetheless, they were served warm and would evoke diner's delight if they were served as complimentary rolls during lunch or dinner.
What's Christmas Sunday without a warm dosage of indulgence? Our Truffle omelette (we requested for egg-white) fit the bill though it badly needed a good dash of pepper and salt to lift its spirits.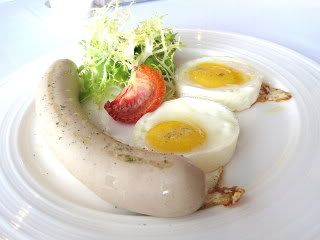 I don't know about you but when I think of "Farmer's Breakfast", I envision a handsome hearty spread that warns of impending cardiac arrest. But Le Figue's "Farmer's Breakfast" was probably what Nicole Richie would (pretend to) eat on the Simple Life.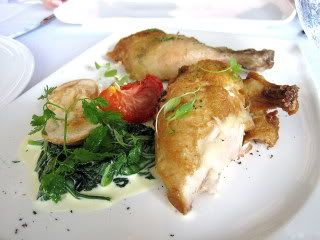 We also had the under the 'Florentine,' half of a roasted baby spring chicken with crème spinach and smoked cheese on toast. This dish came under the "I'm that Hungry" category but the portion was unforgivingly small. Perhaps I should have read the description more carefully: Baby – Spring – Chicken which perhaps translates to 'itty-bitty teeny-weeny chicken'. But at S$32, one could have bought an entire chicken, no? That was the unforgiving part.
Still hungry, we ordered the Croque Madame that had a triple-decker of sunny-side up eggs, julienned ham, gyuere cheese on top of brioche. Beautiful sunny side ups that got all teary-yolky when pricked and incredibly soft brioche slices that reminded me of French toasts. I could hardly make out the bitter-richness of the gyuree cheese - something which I love in my Croques, but this dish was a success compared to the others.
Brunch at Le Figue wasn't sadistically bad but with the stiff Battle of the Brunches going on, the restaurant badly needs to step up their game. I wouldn't think twice about paying the same amount at PS Café – at least I'm fed; but at Le Figue, I left with a feeling that I hadn't experience in a long while – the feeling of being ripped off.
Le Figue
1 Orchard Boulevard
#01-01/02 Camden Medical Center
Tel: +65 6887 5383