We decided to re-acquaint with Fine Dining at Saint Pierre, a Relais & Chateaux restaurant. Having enjoyed our meal at French Kitchen, we were gamed to see what the restaurant that launched
a thousand ships
French Kitchen could do – or in my case, remove my ambivalence towards funky food.
The restaurant was less than half filled at half past seven but by the end of our meal, all the seats were filled and the restaurant enjoyed easy boisterousness. Service would have been almost impeccable, though understandably a tad rough from those who looked young enough to write the fashion blog for Teen Vogue.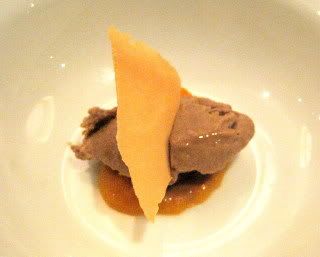 AMUSES BOUCHE #1
Cheese crisp, ceps ice cream and pumpkin mousse
Hey I'm a fan of weird pairings (Ruffles potato chips and vanilla ice cream anyone?) ... but flavour-wise, texture-wise and even temperature-wise, this thing didn't quite cut it for me.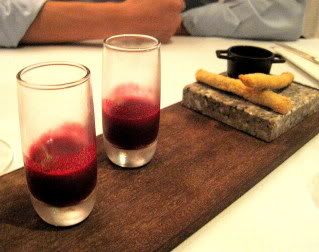 AMUSES BOUCHE #2
To the right, we have deep fried sardine sticks with a mini pot of aioli. I approve! Well, it was deep-fried after all and I love sardines... well, not to the point of Marlin Choir Singing dreams but you get me right?
I can't say the same for the beetroot gazpacho. I don't have a thing for beetroot. The dull potatoey, woodsy flavour of beetroot reminds me of tree trunks (though I'm grateful I have never been desperate enough to turn to trees for a snack). And this cold soup did nothing to ease this Chew-Bark-ca aversion of mine.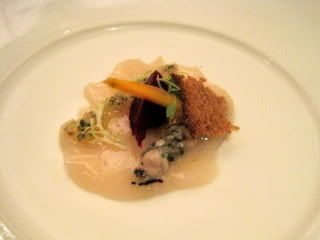 HUITRES ET SAINT JACQUES
hokkaido scallop sashimi with fines de claire oyster tartare, crispy poilane bread, citrus skin confit and pickled baby mountain vegetables
I liked this dish for the very fact that the scallop was tremendously fresh with adequate texture. The sprinkling of pickled vegetables prickled but didn't overshadow the subtle sweetness of the Hokkaido shellfish. Too bad the oyster, poilane and skin confit were forgettable - until I re-read the menu.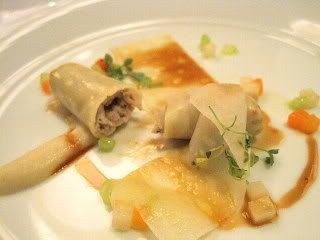 CANNELONI DE LAPIN
braised rabbit cannelloni with celeriac mousse, brunoise of organic root vegetables and olive oil infused split jus
I'm embarrassed to say that I prefer rabbits served and on my plate. This braised rabbit cannelloni resembled an elongated white rabbit candy. How cheeky! Love the gaminess of
lapin
.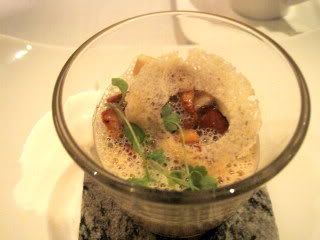 GELEE CHAUDE DE FOIE GRAS
steamed foie gras chawanmushi with fricassee of wild seasonal mushrooms, fresh herb salad and truffle dressing
Instead of the terraine, I went for the foie gras chawanmushi. Well, this was not chawamushi by any stretch of imagination. But it was rather delicious. The heady aromas of foie gras, truffle and its funghi relatives mingled well with the warm egg terrine – like a dinner party with the right mix of company.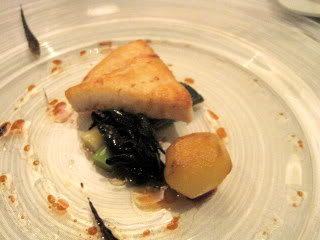 SAINT PIERRE AU BEURRE SALE
seared john dory filet in salted butter with grenaille potato, black trumpet mushroom puree, baby leek and roasted chicken jus
The John Dory filet was the blah-est dish of the evening. It was the lead character – plain john – was a sad fish to begin with and that deflated the dish.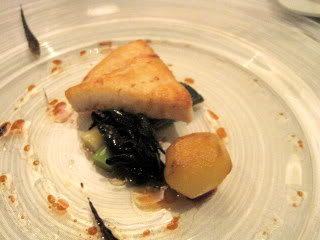 BOEUF KUROGE WAGYU AUX ECHALOTTES
72-hour braised certified kuroge wagyu beef rib with caramelised shallots, egg yolk, broccoli puree and edamame-vieux comte crusted bone marrow
After the John Dory downer, I was really looking forward to the Wagyu dish but it was comme ci comme ca. Sure, it was tender and pink, but for something was "Wagyu" and braised for 72 hours, I was expecting beer-diet-daily-massage fireworks.
Though I didn't get that from the beef, those cheese-crusted bone marrow bits were addictive. They were like pork lard but ten times better due to the melted cheese confetti.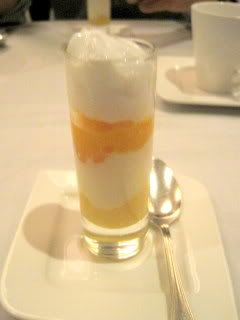 The palate cleanser - lemon curd, orange granita, citrus foam and "one more thing" – was delicious. So much so that I wish I had one more of this instead of the first dessert.
FRAMBOISES ET BETTERAVES
confit beetroot ravioli with roasted italian pistachio cremeux, freeze-dried raspberry and raspberry reduction
Even the Zen-ness of Yoda couldn't convince me to like the "Chewbark-ca" beetroot ravioli. The roasted italian pistachio cremeux was lovely though the freeze-dried raspberry and raspberry weren't more exciting than a pack of dried fruits.
BANANE ET PIGNONS DE PIN
caramelised fresh bananas with homemade pine nut cake, banana tuile, pine cream and milk chocolate paint
This was probably the most straight forward dish. There were no 'huhs,' 'erms' or 'my head's throbbing from too much thinking.' I loved the bruleed top of the caramelised bananas, and the contrast of textures between the banana tuile dust and pine cream.
The milk chocolate paint brought out the competitive plate scrapper in me. Just as I was about victorious with my chocolate dessert, the maitre d swooped in with a chocolate cake dessert to me and said,
I noticed you were scrapping the chocolate off the dessert and thought you must really love chocolate
.
Er, not really. I'm just a regular glut with plate scrapping issues but thank you anyway!
I could have died from embarrassment had it not been for the fact that my skin was thick enough for Grandma Stroobant's flourless chocolate cake with manjari chocolate sorbet.
Eck I really hate to say it was just ok because it's never nice to diss someone's grandmother or family member. So I'm going to say it was just ok for me because I didn't grow up with memories of hanging out in Grandma Stroobant's kitchen in Belgium. But the manjari chocolate sorbet was superbly smooth and rich.
Oh! I almost forgot to mention: throughout the entire meal, there was a bit of a bread pairing going on. First up, we had a parmesan-crusted sticks and courgette dip, and a tough little baguette with salt-sprinkled butter.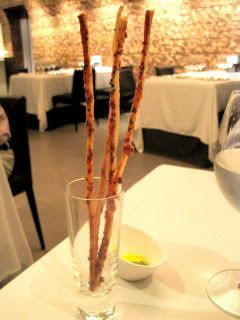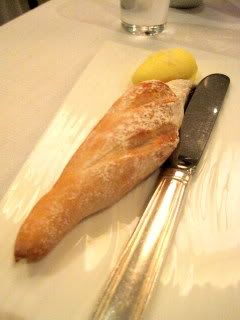 After our starters, we had a sundried brioche with sundried mousse and a mini ciabatta roll with olive tapenede.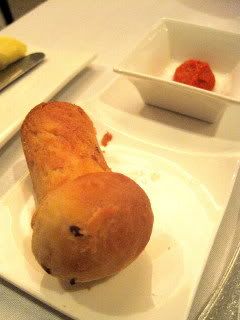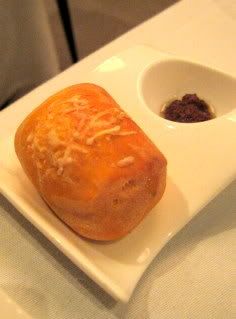 I totally love the idea of bread pairing but it's odd how Saint Pierre's breads were all served lukewarm. It's almost hard to believe they missed out in such details... What a pity.
Saint Pierre
3 Magazine Road
#01-01 Central Mall
Tel: +65 6438 0887