There are probably a few places to check our for seafood in Ho Chi Minh City but my parents swear by this place, and I think they would be morbidly disappointed if I didn't check out Song Ngu.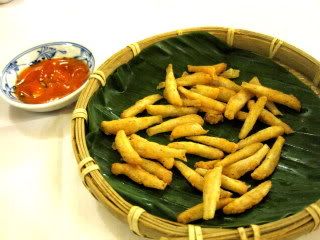 Deep fried silverfish critters
I should have stopped after the twelth critter but it was impossible to
-just one more-
stop. And before I knew it, it was,
Honey, I cleaned out the basket
.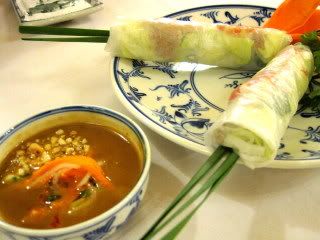 Spring rolls – our only non-fried dish of the meal.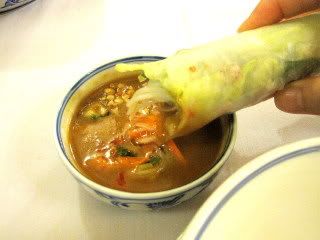 Tas-tay with peanut dipping sauce.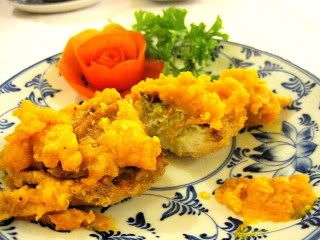 Deep-fried soft shell crab with clumpy salted yolk.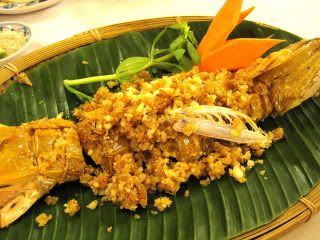 "Song Ngu" Fried Mantis shrimp with garlic
Named as such as they
resemble the praying mentis
. Like a giant shrimp or mini crayfish, these crustaceans don't make pretty pets but fried with garlic (and loads of garlic), I whispered a prayer to the crusta-heavens up above and tucked in with much gusto.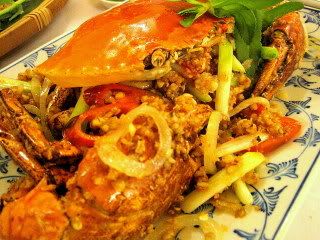 Fried salted crab
The fried salted crab is one of their signature dishes. Sweet flesh, crazy deliciously garlic-spring-onion-chili fry-up – in other words, another winner. I should tell you that if you scrap / finish up the fried bits from the shrimp and crab dish, chances are you will smell and burp garlic for the rest of the day.
And they call me, Sex-ay.
Though popular with tourist, the food's too good for Song Ngu to be a tourist trap. Do come with more people though; otherwise, with just two (like us), you end up overeating yet wishing you had tried out more dishes.
Song Ngu Seafood Restaurant
70 Suong Nguyet Anh Street
D1, Ho Chi Minh City
Tel: +84 8 832 5017