Posh nosh on your first day in Ho Chi Minh City?
What a way to earn my street cred huh?
I wanted to check out Ho Chi Minh City's fine dining scene and our sort-of minder recommended Le Caprice (no relation whatsoever to Ramsey's London haven) at The Landmark. To cut the long
ao dai
short, Le Caprice may be considered by some as a place to impress but I hate to think that this is all Ho Chi Minh City has to offer for fine dining.
The set-up and interior décor reminded me of those 90s Chinese drama serials when Mediacorp was still known as Singapore Broadcasting Corporation and LA Gear was still cool. The restaurant played the Carpenters in the background, and the heavy draped curtains, and mismatched embroidery reminded me of Versailles kitsch.
The food was ok, neither progressively ground-breaking or aptly refined… but it was more than edible. Some dishes were tasty, some forgettable and others I would rather forget.
We had the restaurant's ice breaker, their tasting menu.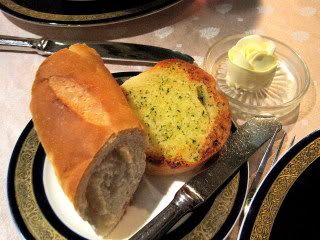 Bread
Warm crusty baguette with marshmallow-soft insides, served with a rose-carved (?!) butter. Gone in five minutes.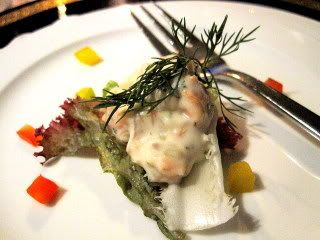 Amuse bouche – Finely-diced salmon covered with mayonnaise.
Crazy mayo-overload and it took me a while to figure out what I was actually having.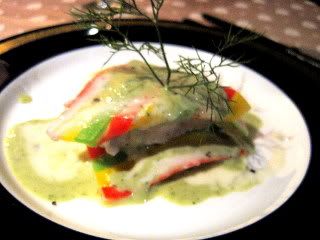 Cod Lasagna with Basil Butter
The word "cod" and "lasagna" are loosely used here. Sheets of traffic-lights-colored pasta sheets sandwiched the fish, with an absence of both béchamel or cheese. And I really really don't think I had "cod". More like some river fish from Saigon River down below. Whoooops.
Crab Cornucopia with orange silvers
Sinewy crab stuffed in a flaky puff pastry. This was pretty good though I was still trying to get over the mayo amuse-abuse earlier.
Watercress, Potato and Leek Soup with Whisked Egg Whites and Pancetta
The soup was good and it stood out from the rest of the meal like androgynously-dressed but progressive Gabrielle "Coco" Chanel in a sea of lacey frills and frous.
Golden-fried Duck, stuffed with duck and ham
Frankly the duck was pretty good too though the minced texture reminded me of duck meatloaf. And by then, I was starting to feel the effects of
RoboCarb: Reloaded
.
Dessert literally rolled by and we each got to choose a cake each from the not-very-huge selection of three cakes - chocolate fudge cake, soufflé cheesecake and some potato-flour cake (that seemed too adventurous for our first night in Ho Chi Minh City).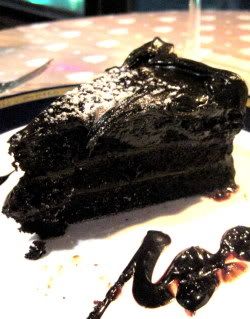 Good gummy-fudge chocolate cake.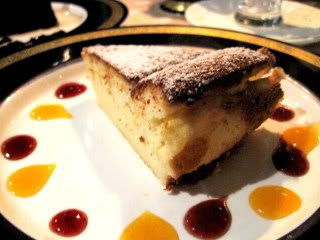 Forget-me-please soufflé cheesecake.
I'm sure this is not representative of fine dining in Ho Chi Minh City. If I had more days in Ho Chi Minh City, I would have liked to try Le Bordeaux.
Le Caprice
The Landmark, Ho Chi Minh City