There are two reasons why this will one of my most unremarkable blog posts.
1. Fanny is overrated - like Udders.
2. I forgot the name of my sundae.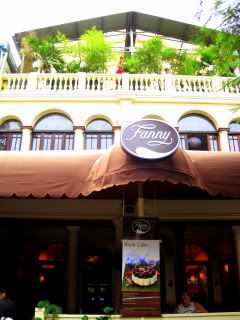 To be honest, if you took Fanny out of Ho Chi Minh City and plonked it in the middle of busy glace junction in New York City or even Singapore, it would hardly cause a (strawberry) ripple. Fanny's popularity could be due to its smooth creamy 100% natural ice cream and parlour settings, but unless you have sudden crave for 100% natural ice cream in Saigon, it's ok to give Fanny a miss.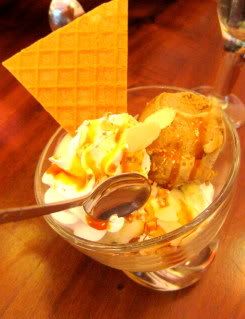 Fanny has many many flavours (over 30!) and even some pretty funky-doodle ones (chocolate chili, anise etc). But us fuddy-duddies went for the not-horribly-exciting-but-comforting
I FORGOT WHAT
, that had 3 scoops of ice cream (coffee, rum & raisin and vanilla), chocolate fudge and almonds.
Undeniably yummy (hey it's ice cream!) though I still don't get Fanny's cult status.
Fanny
29-31 Ton That Thiep
District 1, Ho Chi Minh City
Tel: +84-8211633
Email: info@glacefanny.com