The Hue of loveliness
I do miss Vietnamese food. Very much, in fact and it is all due to our lunch at Phu Xuan.
In Singapore, we have bankers/lawyers-turn-something but here in Ho Chi Minh City, or at least in Phu Xuan's case, the owner cum chef Ho Thi Hoang Anh was an ex nuclear physics researcher, whose grandfather prepared royal banquets.
Nuclear = explosion? Sounds like lunch.
Phu Xuan, which means "wealth and joy,"was the original name for Hue, Vietnam's first capital city. Phu Xuan's forte is traditional Hue food and one Japanese tourist was reportedly so impressed, she opened up a branch in Tokyo.
Hello, Singapore needs you too!

Like premium sushi, Hue food was disarmingly simple. Many items on the menu were bonded by two common dominators - rice cakes and fish sauce.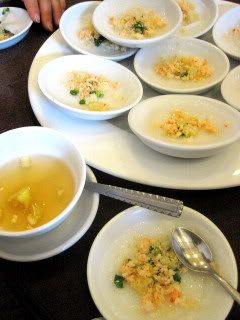 I was gobsmacked from the beginning. The bánh bèo (literally "water fern cake") was a small dish of steamed rice cake, topped with a pinch of shrimp and shallot sprinkle. A dash of minced shrimp and fish sauce was all it took to dispel my preconceived prejudice against bland steamed rice cakes.
Here's how one should eat it: Mark a crisscross with your spoon, drizzle with fish sauce and scrap out each quarter to eat it.
These are crazily delicious especially when they are fresh out of the steamer.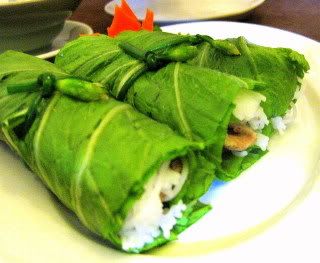 Cuon Diep (lettuce rolls with shrimp, meat, and noodle) paired with peanut dipping sauce. These were ok, since I'm not the biggest fan of raw lettuces and plain boiled noodles.
The chao tom (grilled prawns on sugarcane) might be more familiar to us Singaporeans. Here, they splice off the prawnies and wrap them with lettuce, before dunking them into the ubiquitous peanut sauce.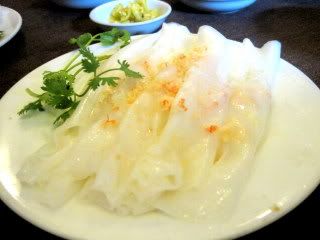 Banh tom chay, which is similar to the Cantonese chee cheong fun, except that instead of light soya sauce, - yup you guess it - fish sauce is used. Diaphanous sheets that wield considerable chewy power, it was super and still-surprisingly tasty.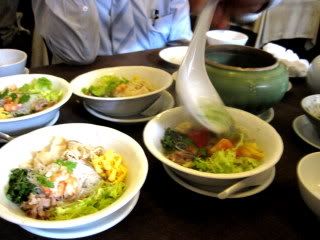 Vermicelli with shredded omelette, salted shredded shrimp, chicken, onion, shrimps paste, were served dry and a ladle of soup spooned over it. Very light and homely-tasting.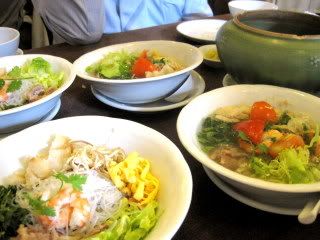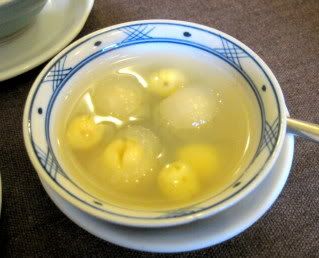 Before rounding up the meal with a light traditional dessert of lotus nuts and tapioca-like balls soup.
For me, when it came to Vietnamese food, Phu Xuan did what Christopher Bailey did for Burberry - made it absolutely desirable. I never used to think much of Vietnamese food but now, it's "Phu better or worse" between me and chewy malleable rice cakes with fish sauce.
Phu Xuan Restaurant
128 Dinh Tien Hoang Street
Distrrict 1, Ho Chi Minh City
Tel: +84 8 820 0329