Put off by factory-made franchises, I can be quite the kaya toast snob.
That being said, I love kaya toast and could never pass up a kaya-toasting opportunity. When it comes to bread-slathering loveliness, kaya is right up there with peanut butter – though the satisfaction gained from licking spoonful of peanut butter right out of the jar is simply incomparable!
Tong Ah Coffeeshop (Tong Yah Coffeeshop) remains loyal to their kaya toast and we're talking, through thick and thin.
Their thin toasts amuses me. They resembled little matchboxes … though it took more one to light my fire. Though satisfyingly crusty, the barely-there bread crust was incapable of masking the chilled butter slabs.
Although the thin ones are super crusty and rarer (ie more rave-about), I preferred the thicker pillowy ones.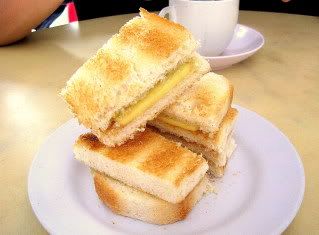 Tong Ah's kaya toasts were satisfying but I'll stick with Wah Yen Eating House's French toast for the Toast with the Most title.
Tong Ah Coffeeshop
36 Keong Saik Road