I don't eat enough Italian desserts.
Thing is after a heavy, usually carb-centric meal, the last thing I want to do is cram a mascarpone-cheese-rum-chantilly-cream dessert in with that digesting mash risotto or pizza. I mean, I could ... but the morning after wouldn't be pretty.
I don't eat enough Italian desserts but if you took me to Riciotti, I promise to behave.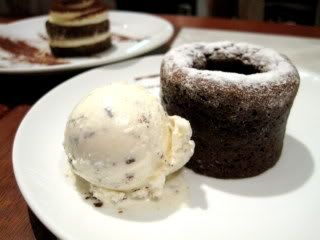 The soffiato was warm dark chocolate cake with chocolate chip ice cream. Yes, regardless of what you name it, it is / was / has been just a molten chocolate cake. But I will admit that despite their ubiquity, I still can't get enough of these
ooze-muh-baby
treats.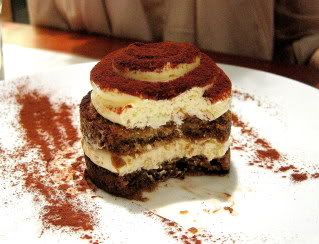 The tiramisu - mascarpone cheese cake with coffee and cocoa was breathalyzer-friendly, which could be why I enjoyed it. Oh c'mon, does that cocoa-coil -roundabout make you
go Aww
wanna stab it?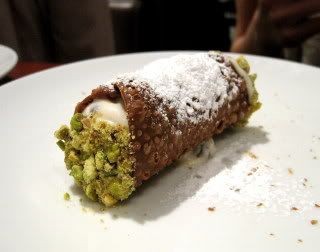 I have been unable to get the cannoli out of my mind ever since I caught Anthony Bourdain's No Reservations, where he gets "assasinated" in New Jersey. Riciotti's cannoli was a chocolate pastry tube stuffed with ricotta cheese, citrus fruits and pistachio nuts. Savoury with hints of sweetness, it was damning delightful.
Yes... leave the gun, take the cannoli.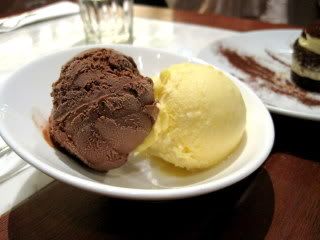 Passionfruit and chocolate gelato - who would have thought this combination would work?
Ricciotti Italian Deli & Pastry
20 Upper Circular Road
B1-49/50 The Riverwalk
Singapore 058416
Tel: 6533 9060