I've been frequenting Cuppage Plaza alot these last couple of weeks. It's charming in a I
choose not to patake in the Orchard Road rejuvenation
scheme, where very restaurant feels like a trapdoor to somewhere clandestine.
Follow your inner Shinjuku Alice and wander into this Wonder-CubbyHole-Land where Tweedledees and Tweedledums greet you with,
Irrshimase!
The latest place (well at least when I was writing this post) we visited was Kazu Sumiyaki Restaurant. The restaurant filled up quickly on a Tuesday night, and a blurry of activity and dishes followed.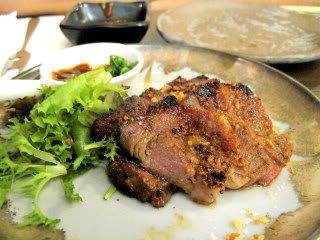 The kurobuta pork cheek above epitomized the quality of the yaki we had that evening - smokey, slightyly charred on the outside but soft, still-pinkish within.
Other dishes we had - fatty pork jaw, pork belly, scallops, enoki wagyu, beef with cheese, pork & asparagus, pork with apple, duck stick etc - were memorable in my sumiyaki memory bank.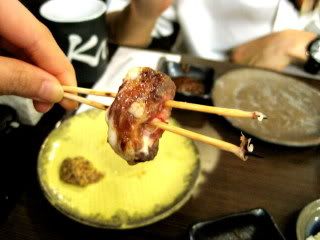 If I were a sumiyaki otaku, I would make weekly pilgrammages here.
Oh, and did you say you were in a rush? Hmm then it's probably not a good idea to come here. Not to say service is slow, just laidback - in true Cuppage Plaza style.
Kazu Sumiyaki Restaurant
5 Koek Road
#04-05 Cuppage Plaza
Tel: 6734 2492