A couple of weeks ago, my mum sat me down ... No, not for the Birds & Bees talk but for an Austerity Talk. She usually leaves me to do my own thing so it was quite odd of her to mind my spending habits.
Quite timely too, if I may add since I was getting sick of fine dining.
Yup, you heard me right.
Is this just a phase or am I jaded for good?
I don't know but for now ... No more white starched napkins, complimentary bread baskets, amuse bouches, palate cleaners, foam, mousseline, ingredients that I can't pronounce for me... till my palate tweaks back and I strike lottery / win a Golden Ticket / score a bailout.
Ah my parents would be proud. They might even acknowledge me as one of their own.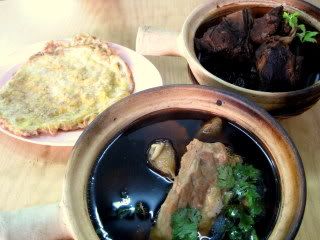 A few moons back, we did
haute
hawker at Sin Heng Claypot Bak Kut Teh.
Personally I've always been a white bak kut teh sort of person. My parents would take us to Rong Chen since it was near our place. Sin Heng 's ribs are pretty good but without a piece of childhood memory attached to it, it was missing the X-factor for me.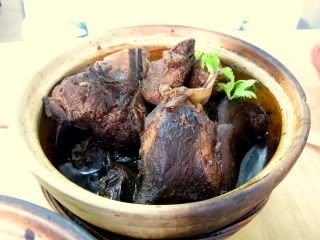 The pig trotters toed the line of WTF-deliciousness. Clear favourite of the evening.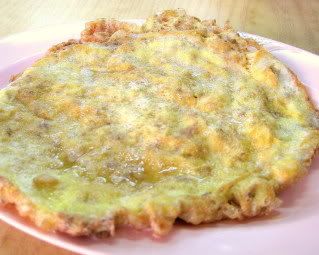 The chai poh omelette was good but it was no
Pariaman
. A dunk into dark thick soya sauce elevated it to almost-but-not-quite-Pariaman.
Sin Heng Claypot Bak Kut (Koot) Teh
439 Joo Chiat Road
Tel: 6345 8754
Closed on Mondays