"Yar yar, it's been too long ... let's meet up soon! Dinner on Wed? Sure... but I think C can't... Fri? I have a birthday part on Friday" and before you realise, months roll by without so much as a whiff of a gathering.
Luckily the few of us eventually got our act together and met up for dinner at Oriole Cafe & Bar. The phrase "hidden gem" is really a cut-and-paste description because just about everybody I know who has a remotely vague interest in food has been to Oriole.
At Oriole, I like the single page menu though not everything sounded Eat Me! The food is good but not distractingly so.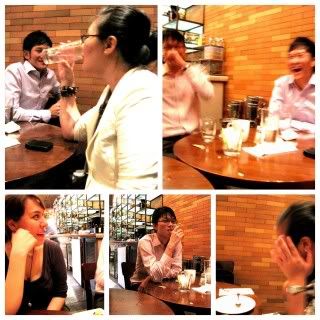 Desserts are usually the break-up-or-make-up factor for me and unlike Bedrock, Oriole's sweet offerings did a decent job of satiating.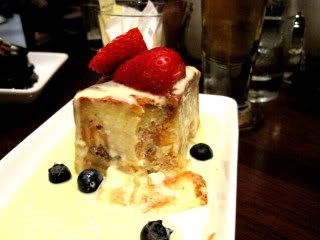 The bread and butter pudding was sort of ok but then again I'm the sort of person who digs (into) the crust-ier rims of bread and butter pudding platter, and this probably came from the soft "middle".
With a light cream cheese crown, the spongy carrot cake reminded me more of a carrot cupcake. Not that that is a sin. As long as you are light and spongy, you can come in any shape or size – and I would still like you very very much.
Honey Crumble Affogato: When Violet Crumble met Affogato.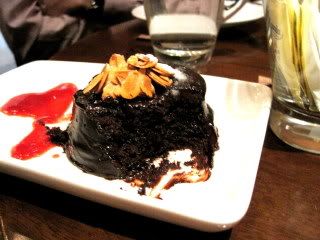 I love the chocolate fudge ganache cake whose gumminess, like squid ink, clings to your lips and teeth unglamorously.
Between Eton Mess and going dessert-less, I rather not have dessert. Shocking huh? No wait, I think I will hold out, then walk into the nearest 7-11 to get a Magnum.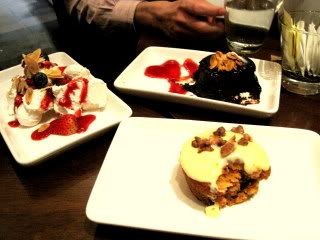 I remember Sunday's service being spotty was best but the two Wednesday nights (I went back the following week) I was there, I have nothing but compliments (and emoticon kisses =x) for the crew. So if you are part of the Wednesday evening shift, give yourself a pat on the back!
Oriole Cafe & Bar
96 Somerset Road
#01-01 Pan Pacific Serviced Suites
Tel: 6238 8348