Wow this meal happened a month ago.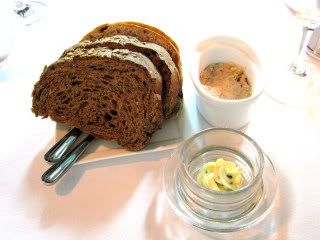 While we went through the menu, the kitchen sent out slices of wholewheat raisin walnut and mixed grain, with pork rillette shreds and thyme butter. Although I was mildly disapointed that the slices weren't warm, I like how restuarants serve their bread even before diners place their orders.
Nothing like some butter-slathered carbs to fuel my thought process.
"Are you going for the degustation?"
"Yeah maybe... "
"But do you think we can change the dessert? I'm not big on parfait. "
"Yeah maybe... Oh wait, they have sweetbreads on the ala carte menu... sounds great"
"MY SENTIMENTS EXACTLY!"
I honestly thought the degustation menu would be a shoo in but the ala carte menu flashed its goods, causing me to backtrack on my initial plan.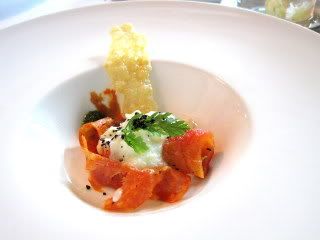 After our orders were taken, our waiter presented the amuse bouche and walked away wordlessly.
I was tempted to go IRC on him, "Intro pls."
We flagged down the passing-by manager who explained that it consisted of salami, parmesan crisp, crab sauteed with mashed potato. I liked it; you get the sweet and salty from the salami and crab, crisp and mash from the parmesan chip and potato.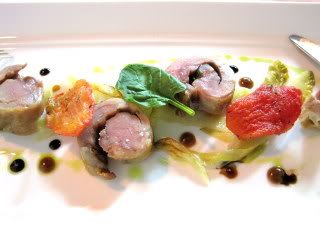 FILET DE CAILLES TIEDES
For starters, I went for the confit quail breast, instead of the sweetbreads. I was deciding between small little game bird and fatty oily fish for my mains but I could have the best of both worlds by having the small little game bird for my entree and fatty oily fish for my main.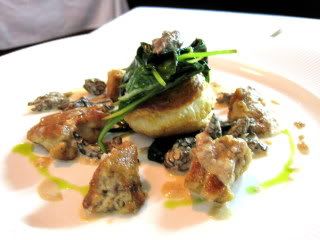 VOL AU VENT DE RIS DE VEA - spongey sweetbread with creamy morel mushrooms in home-made puff pastry.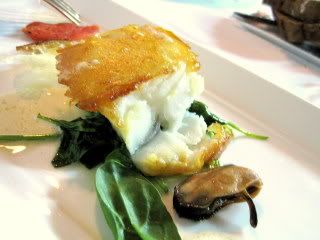 CABILLAUD
I loved the Cabillaud, a slow cooked cod fish. It came with sauteed baby spinach, mouclade emulsion and a crispy farmer bread slip but spotlight shone solely on the cod. Though it was quite a petite block of cod, I spent a meaningful ten minutes with it. Perhaps it was good that it was on the smallish side as too much oily fish would have made me go from "Oh Cod" to "Oh God".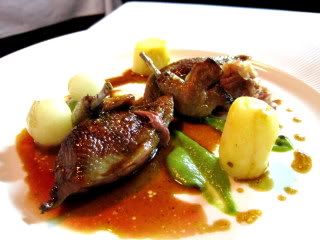 PIGEON - roasted Anjou pigeon royale with garniture a la Francaise - French green pea puree, glazed baby onion and air dried Bayonne ham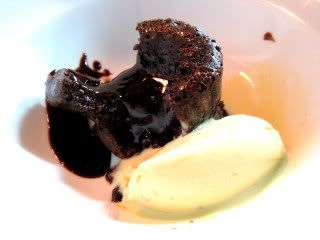 MOELLEUX
For dessert, the Moelleux, a traditional Dubois warm chocolate fondant, is my idea of a Tom Hanks dessert. Warm, comforting … though a little too overexposed. And you somehow forget how good he can be until a WTH movie comes along (DaVinci Code, anyone?).
Happily, the signature Dubois dessert was Forrest Gump good; and the caramelised bananas was deliciously scented of bananas, burnt sugar and butter.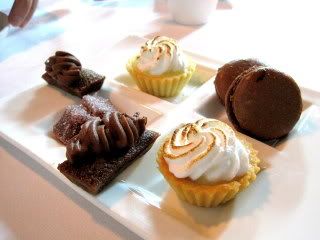 Our petite fours
Unfortuntely the service didn't match the finesse of the kitchen. our waiter left us with our amuse bouche, without bothering to explain what it was; we had to ask for new cutlery after they were cleared with the amuse bouche; and my water wasn't topped up promptly.
However, minor service hiccups aside, dinner at The French Kitchen was memorable for the right reasons.

The French Kitchen by Jean-Charles Dubois
7 Magazine Rd
#01-03, Central Mall
Singapore 059572
Tel: +65 6438 1823
Email: info@thefrenchkitchen.com.sg