Depending on which side you are on, Spruce is somewhere unanonymous food critics love and rave about while humble plebians are a little less enamoured.
The digestible menu tried to capture the restaurant- bar-and-bakery feel without overdoing it but that also means it is a hit-or-miss nosh experience.
Sidetrack: I love how WAY says, "
The place is totally charming and I like that it is not overdone to designer perfection
."
But on his blog, the owner/ chef dedicates a blog post to the interior décor, "
Our interior design references mid-century modern masters, such as Charles and Ray Eames who are quite possibly the most famous chair designers in history as well renowned lighting designers Achille and Pier Castiglioni
."
I. Love. It.
Roughly-grounded lamb chunks on a bed of lettuce, the lamb kofta salad with yogurt mint sauce was alright. It wasn't the must-try item of the evening but there are very few must-try things on the menu.
I really liked the sweet onion crepes with truffle cheese fonduta. You could put anything with sweet onions, truffle and cheese in front of me and challenge me not to like it. You win; I will not even put up a fight.
We didn't have the macaroni and cheese because the boys didn't weren't particularly fond of it. It's ok, I shall return to try it with a bunch of pitch-forking-welding, mac-and-cheese-lovin' folks.
Two burgers made it to our tables, the signature Spruce burger and Fathers Office Burger.
I took a bite out of the FOB, feeling the love from the caramelized onion and bacon compote, blue cheese and garlic mayonnaise. Onion, bacon, blue cheese and garlic - this should be renamed Bad Breath Burger. Delicious nonetheless.
One of us had the steak frites, which was a little overdone for its own medium-rare good.
I had the roasted whole snapper – fish head and tail; very Asian style – which is what I like. When it comes to fish, I do prefer to see something more than a fillet and not drenched in fancy sauces.
The sticky date pudding hadn't improved since my last visit but at least the vanilla ice cream wasn't MIA.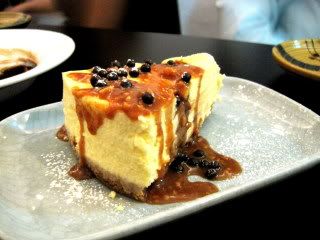 The cheesecake of the day was Snickers Cheesecake. Well, they didn't stuff a Snickers bar within; drizzled with crunchy chocolate balls, nougat, peanuts and caramel, it was the best dessert of the night.
The carrot cake was dense as a brick and mono-dimensionally sweet (I could almost floss my teeth with the sugar). To get over the
schwwwetness
, we dunked in the chocolate sauce that accompanied the pudding. I know it sounds odd to neutralize sweetness with chocolate but it worked!
Prompt and knowledgeable, the service is decidedly more polished this time round. I know this might sound like an ok-to-negative review but I had a good time at Spruce. See how good company screws your judgment?
Spruce - restaurant bar bakery
320 Tanglin Road, Phoenix Park
Tel: 6836 5528
Email: reservations@spruce.com.sg