Bella ... ella ... ella ... eh ... eh ...
I can't stand that Rihanna broken-record tune but it sure sticks in your head when you least expect it.
Anyway one weekend afternoon, we circled Robertson Quay once, narrowed down our options by cutting out Japanese restaurants (shock! horor!) and Tiny-Tots-looking Brussel Sprouts ... before settling down at this casual Italian bistro. Spontaneous and unplanned, it was a good choice though; nothing to stiff for a relaxed Saturday munch.
The portobello mushrooms looks as if someone stepped over it. Twice. With Dr. Martens. But it's a lot tastier than it looks, thanks to the porcini sauce.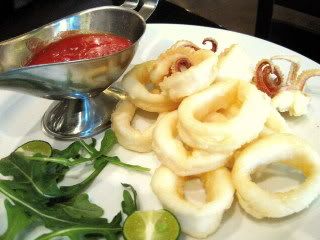 I haven't had calamari in the longest time. I didn't really use up the abbrabiata sauce since I'm not a fan of dunking fried stuff in sauces ... and it baffles me when my dad dunks his tempura into the dipping sauce pool - doesn't that just nullify the crunch and the very purpose of ordering deep-fried something?
It was fine. The calamari was almost batter-less so it doesn't feel like you are munching on those nasty KFC I-hope-it's-chicken popcorn chicken.
The chef / owner Antonio was from Da Paolo, which is one of my favourite pizza parlours. Bella Pizza has an assortment of open-faced pizzas, clammed-up calzones and the traditional Barca Siciliana (boat pizza), which is what we went for since we are such suckers for traditional novelties.
It was the way I like it - thin with puffy rims, layered with chewy buffalo mozzarella and covered with fine sheets of parma ham. I loved how the parma ham draped itself all over the pizza - was this how the Byzantines felt when they first laid eyes on silk?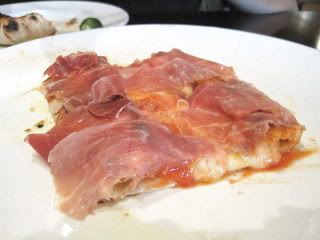 We didn't have dessert there; not that it wasn't any good – I wouldn't know since I didn't try. But unless it's a set meal, I usually don't prefer dessert where I have my meals. Because to me, dessert is a brand new meal ... which deserves its own time, setting and place ... so we went over to Laurent's.
The restaurant inside is indeed uncluttered and spacious; there is outdoor seating as well, but with the disgustingly hot weather we have these days, I'll pass on the potentially interesting people watching.
Bella Pizza
30 Robertson Quay
#01-14 Riverside View
Singapore 238251
Tel: 6734 0139