Last last last weekend, I caught the Japanese film, Nobody to Watch Over Me. An 18 year old high school student is arrested as a suspect in a murder where two grade school girls are brutally stabbed to death. The film focuses on the chronicles of Detective Takumi Katsuura, who was sent to protect 15 year old sister of the accused, Saori Funamura from the media onslaught and outraged public outcry on the suspect's family.
I thought it was a remarkable film and the opening music, You Were There by Libera was particularly haunting.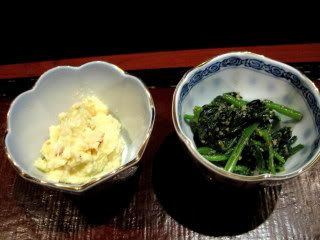 Potato salad and vegetables with sesame and nuts
Before the movie, I had dinner at Nagomi, somewhere I'm somewhat reluctant to blog about. Not that I'm egoistic enough to think about the diner onslaught that will swamp the place after I blog about it… but rather, I had quite an awesome experience so I would feel bad if others had a different experience.
In this intimate 25-seater restaurant, where diners sit knee-cap-to-kneecap, I felt like I had been invited into someone's home. I had to remove my heels before entering the restaurant. And immediately I though of Carrie and her Sedaraby D'orsays. Though mine were no Manolos, I was wearing them for the first time – and sad to leave them behind. I wonder if anyone caught that last look of despair I threw at them before heading into the seating area.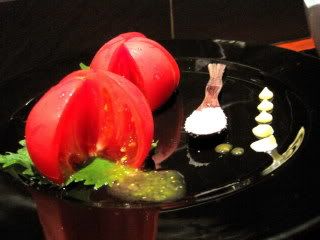 The almost too-perfect momotaro tomato, served with a teaspoon of salt and mayonnaise
Though I kind of forgot about them as soon as our meal began.
There isn't an English or fixed menu available as the Japanese owner / chef Nada Satoru uses seasonal ingredients. The drill is omakase, which I was more than happy to go with since I knew Somebody (boyish and cute) was Watching Over Me.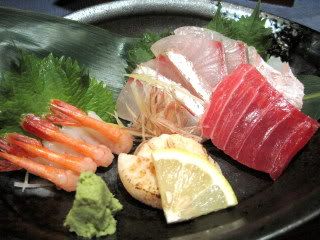 Fresh sashimi- amaebi, lightly grilled scallop, striped jack, hamachi and haliburt.
Cuttlefish and daikon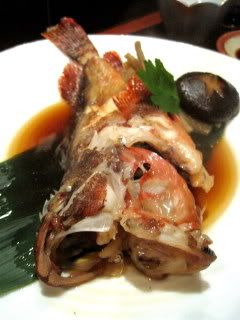 Rock fish cooked in sweet soya sauce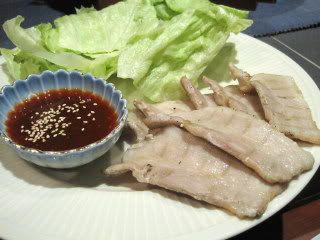 Grilled Berkshire pig (black pig) with cabbage wrapping and looks-fiery-but-not dip.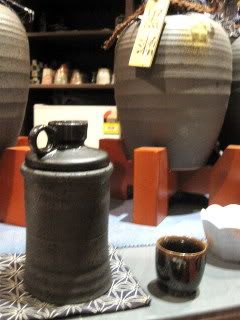 Some sake to go with our meal.
Nagomi
5 Koek Road
#02-22 Cuppage Plaza
Tel: 6732 4300