Not even vaguely athletic, I triple-jumped at the opportunity to try Absinthe when Kelvin organized dinner there. I've read pretty good stuff about it (for once, traditional and social media agree) so it surprised me when I didn't enjoy the food as much as the rest of Singapore did.
Was the bread warm?
Yes.
Did you like it?
I liked it enough to have one serving.
Rarely does a Menu Degustation intrigue me but the promise of lobster, foie gras and scallops made my mouth water.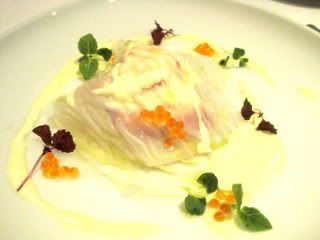 Ravioli de langouste Rafraichi, Sabayon au Citron Vert, Julienne de Goyave & Shiso
Chilled Ravioli of Lobster with Lime Sabayon, Pink Guava Julienne and Shiso
While the chunks of plump lobster cajoled and pleased, the rest of the dish didn't quite do it for me. The "ravioli" skin was an unpleasant hybrid between a hargow skin and boiled cabbage. I don't think the guava worked nor could I taste the sabayon and shiso. All I could taste was mayonnaise mayonnaise mayonnaise.
Saint Jacques d'Hokkaido Emulsion d'Oursin et Salade de Fines Herbes
Hokkaido Scallop With Sea Urchin Emulsion and Small Herb Salad
Things looked a little sunnier with the pan-seared scallops, which was beautifully sear-glazed on the outside and rawish in the middle. The sea urchin emulsion was definitely working it for me though a couple others couldn't detect anything. How odd.
Foie Gras Poêlé, Blinis tiède et Compote d'Hibiscus Sauvage
Pan-Fried Foie Gras with Warm Blinis and Wild Hibiscus Flower Compote
Tucking into the pan-fried foie gras, I felt as if the Green Fairy had paid a visit. Like the scallop, the time my beloved foie spent on the pan was precisely timed, such that it was firm yet creamy.
Mains:
Saint Pierre Poêlé, Pommes Écrasées, Asperges Vertes, Beurre Blanc à la Vanille
Seared John Dory Filet, Crushed Potatoes Green Asparagus & Vanilla "Beurre Blanc"
Or
Noisette d'Agneau d'Australie, Piperade de Poivrons Rattes, Jus au Thym
Slow Cooked Australian Lamb Loin, Capsicum Piperade & Ratte Potatoes, Thyme Jus
The mains didn't soound or look rave-worthy. I didn't taste them but the despondent neighboring facial expressions said it all. A picture says thousand words and in the blogging world, a facial expression could be worth at least a blog post.
For an additional surcharge, I changed my mains to the roasted black cod and saffron risotto, hoping to relive the lovely memories of French Kitchen's cod. Unfortunately, you could never fall back into a wonderful dream after waking up from it.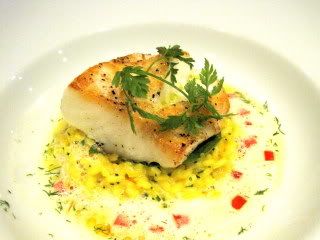 Cabillaud Noir Rôtis, Risotto au Safran, Jus citronné à l'Aneth
Roasted black cod Saffron risotto and dill scented citrus jus
The cod was overdone so you wouldn't be able to tell that it was one of those a fatty but cardiovascular-friendly fish. The saffron risotto had a light citrus broth, which was nice (not going to bother with the thesaurus) but very unrisotto-like.
The risotto wasn't cooked to the point where the grains had released its starches, resulting in a creamy but al dente mob that I was hankering for. Think Teochew fish porridge versus Cantonese porridge: both are delicious but differently so. And Absinthe's risotto was "Teochew fish porridge" and I was looking for "Cantonese porridge".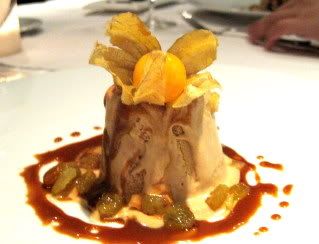 Parfait Glacé au Pralin de Noisettes, Salsa de Pommes Vertes et Raisins Secs
Praline Hazelnut Iced Parfait, Salsa of Green Apple and Sultanas
The praline hazelnut parfait was a velvety creamy treat, speckled with plump raisins. It wasn't my dessert but I finished it. How very unsurprisingly unbecoming.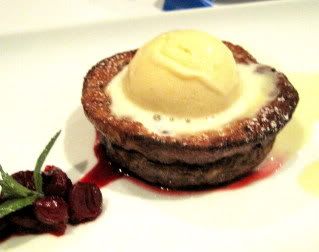 Clafoutis Tiède de Prunes, Glace aux Amandes
Warm Plum Clafoutis, Almond Ice Cream
Having heard much about it, I wanted to try the plum clafoutis. I know it's supposed to taste like a soufflé-cake but somehow it reminded me of a bread-pancake. It almost saddens me to say I didn't fancy it because I love bread and pancakes - separately. People love Absinthe's clafoutis so I guess I'm not a clafoutis person … although I do like saying it,
Kla-Fo-Tea
.
Situated on the edge of Bukit Pasoh Road, the restaurant cuts a vintage, old Parisian feel though it felt contrived, compared to say, Le Bistrot. There's a fine thin line between smart and smart alec-ky service and Absinthe's service tiptoes the latter category. With such scarily different reviews all over the internet, you should really try out Absinthe for yourself - but only if you are dying to do so.
Absinthe
48 Bukit Pasoh Road
Singapore
Tel: 6222 9068