You might have read the flurry of Food Bloggers' Lunch posts on other blogs so this would be more of a wrap up cum thank you note.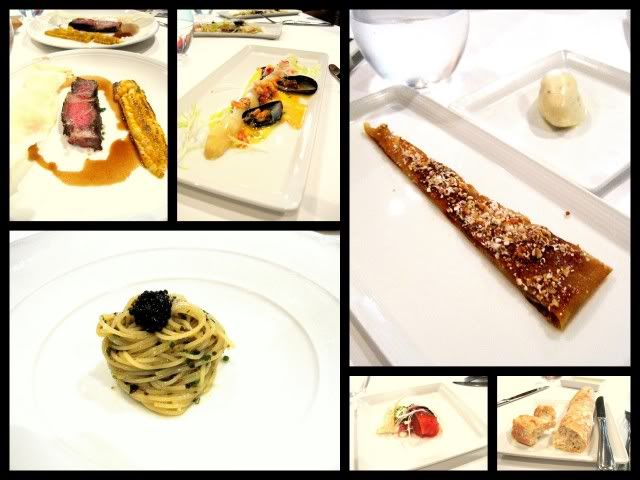 MENU
Amuse bouche
Japanese tomato
Starter
Cold angel hair pasta with Oscietra caviar
Special Starter
Poached French white asparaguwith Hollandaise sauce, dried Japanese shrimps and steamed Alaskan King crab and Bouchot mussels mariniere (white wine sauce)
Main
Grilled Cote de Boeuf with Japanese sweet-corn and crispy potato, drizzled with Bordelaise sauce
Or
Roasted black pig from Spain (pata negra)
Or
Salt baked seabass with chives oil and kombu
Dessert
Fine apple tart a la dragees with rum & raisin ice-cream
Cavaet: This special menu Carte Blanche menu was a special arrangement, so please don't expect to walk in and for something similar.
Perhaps you could try emailing them...
Before I forget - a BIG (read: SuperSize) thank you to our sponsers: Garibaldi, Les Amis, St Pierre, Obolo, Tetsu and True Heritage Brew.
Thank you all for coming
, I had fun hosting it and I sure hope you all had a great time!
The flurry of entries:
Egg Toast
Sg Dessert
Camemberu
Recent Runes
Foodies Queen
Divine Esssentials
Jaime La Nourriture
Singapura Daily Photo
And of course, my fellow host Brad,
LadyIronChef